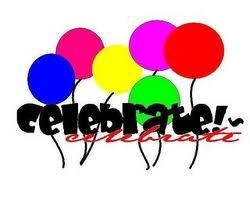 Yes, My Friends Ė I'm celebrating! I have completed 2 weeks of the June Pedometer Challenge. This means that for 14 days Ė IN A ROW! Ė Iíve been walkiní & rockiní and moviní and grooviní to the sounds of any music that gets my body in motion.
(For those who donít know the first part of this story it is found @
www.sparkpeople.com/mypa
ge_public_journal_individu
al.asp?blog_id=4285846 )
And here's the best part Ė even better than the numbers on my pedometer Ė is that Iím actually enjoying moving my body. It isnít something I make myself do Ė
I WANT to keep on moving.
Is that a reason to celebrate, or what?
So let's

with a song Iíve been walk/dancing to all week long.
ďCelebrateĒ with Kool and the Gang
www.youtube.com/watch?v=
3GwjfUFyY6M
Iím giving a huge Thank You to MADKAPKID for suggesting this song. It captures how I feel when I let my body move Ė in the ways it WANTS to move. What happiness! (after years of chronic pain in which every movement was torturous). My new joy comes from choosing my own steps and adapting them to how I feel in the moment. This freedom of movement allows energy to flow easily and comfortably. My steps and my pace vary each time. Iím not in pain nor am I overly fatigued because I listen to my body tell me when Iíve had enough. I find myself walking more often AND longer -- not because Iím trying to get in more steps -- but because it feels so good.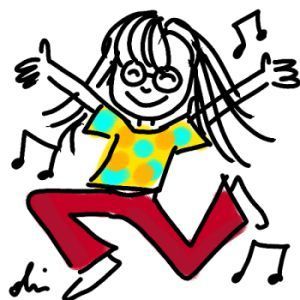 With all this renewed energy I began to wonder if I could get back to some of the exercises I used to do. So this week I got out an old exercise video that had a prescribed routine to follow. The program is a good, balanced aerobic workout and the music is fun, but soon I noticed how much effort it was taking to force my body into another ten reps of the same thing! After only 8 minutes my legs began to falter, I felt a very familiar pain in my low back and I was soooo tired.
Some people might point out that this is because my level of fitness is so low --- and I canít argue the lack of fitness part. But itís also possible that by pushing my body into moves, intensity, and endurance it isnít ready for Ė I was working against my body, not with it.
More importantly I noticed what happened to my enjoyment. The fun was gone. I had no desire to continue and I wasnít enthusiastic about doing that workout again ďto get better at itĒ. I was feeling defeated and I could hear the echo of the old voices telling me I was weak and foolish to even try to get stronger. AAGH Ė Not where I want to be!!
Still, it was a useful experiment because now Iím beginning to understand that it isnít the minutes, it isnít the steps, and it isnít the numbers on the pedometer that are keeping me going. Itís the JOY I find in moving that matters to me. When I cooperate with my body it feels whole. It feels energizing. It feels uplifting.
It feels like a celebration of life!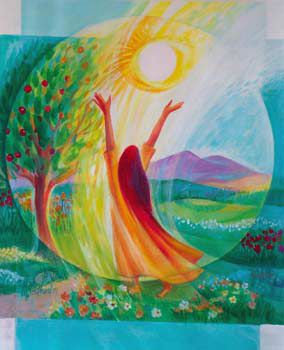 I chose this picture by Mary Southard for my profile image last summer when I started Spark. At the time I was captivated by its exuberance
and I havenít wanted to replace it.
I believe Iím beginning to live into it!
(P.S. For those who want to check ďthe numbersĒ for the pedometer challenge here is the link)
www.sparkpeople.com/mysp
ark/team_messageboard_thre
ad.asp?board=14678x40921x42155165