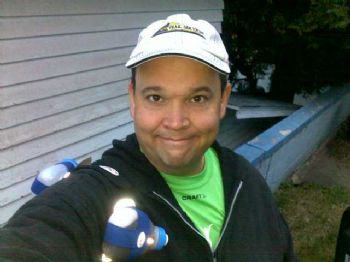 620AM - Feeling a little uneasy about what lies ahead
Gorgeous Sunrise on Lake Superior!
Pictures along the route taken on walk breaks....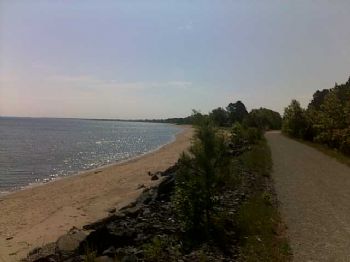 Being sure to set a good example, i made sure my pace was less than 35 MPH...lol....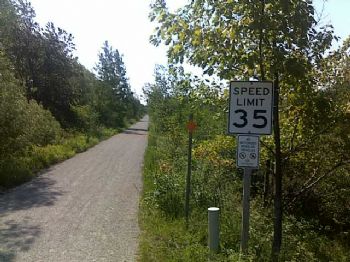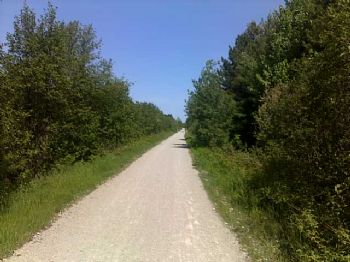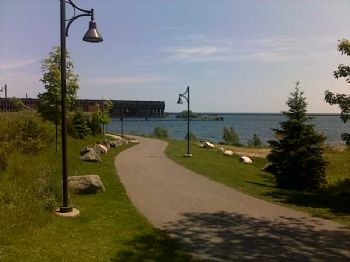 Still smiling' after 21 miles!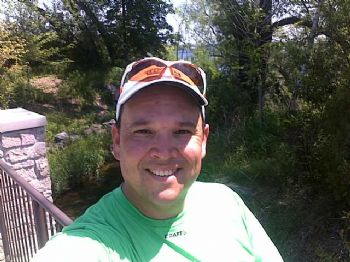 Hey, I found an "Easy Button" at the end of the run... That was easy!!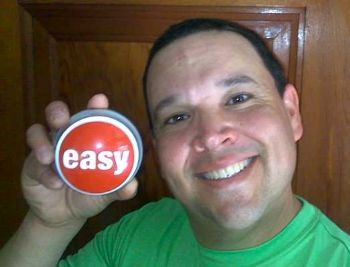 previous 20 mile time 5hrs 45 min
20 mile time today 5 hrs 30 min... total of 21 miles in 5 hrs 45 min...
Walked another mile for recovery after the run, needed to keep moving.
This is just a short summary, will probably get more into the technical aspects later.
The most positive aspect of this run besides overcoming the mental funk that had me dreading going out there was not necessarily the time of the run but the strength of it. At the Half Marathon mile mark (13.1) I was just a few minutes away form beating my best half race time. That is not the objective of the LSD (Long Slow Distance) run but my pace was there and it was seemingly effortless. Completing the half distance was actually pretty easy which is a good sign.
The first time I did 20, I had to work hard for it and walked quite a bit for the last 2 miles because at mile 18 I hit the wall and really had to push..... Not this time. I hardly struggled which is a really good sign. the endurance is there and I felt strong afterwards, not feeling like a survivor but a finisher.
the most notable thing to come out of the run was the use of Endurolytes by Hammer Nutrition.
Here are some customer reviews..
www.amazon.com/Hammer-Ge
l-Endurolytes-120-Capsules
/product-reviews/B001AYMJF
E/ref=dp_top_cm_cr_acr_txt
?ie=UTF8&showViewpoints=1
www.hammernutrition.com/
products/endurolytes.elt.h
tml?gclid=CLOHnZWJt6kCFUa8
Kgod0gFR_w
This stuff is worth taking a hard look at. My cramp and tightness issues would have me stopping to stretch throughout my run and would get worse at I got past 13.1 I just took it as a sign of a big, out of shape guy trying to do too much. I lost alot of time stretching because if i didnt, it would have been a recipe for injury. Come to find out that all of that cramping was actually electrolyte depletion in spite of taking gels etc... During this run, I only had some minor, momentary discomfort but NOTHING like what it used to be.
I am totally amazed at the level of progress I have made at simply getting my nutrition and electrolyte replacement dialed in. I started out just barely to gracefully complete a half, to doing 15 miles then jump from a struggling 15 to 21 miles in almost no time at all. the fitness was there all the time to support such an endeavor but i was hitting all sorts of issues with cramps and bonking out.
The level of progress is enough that it really makes me step back and take a hard look at running nutrition and supplementation as a whole. I am seriously wondering about some of the difficulties we face in our training are nothing more than blood sugar, hydration, and electrolyte problems. Maybe trying to train harder because we are mistaking nutritional issues for a lack of conditioning is something akin to pounding square pegs into round holes.
Just food for thought.
only now have i been actually able to train at my real physical limit rather than trying to simply push through a bonk because i ran out of gas. It is only when I train at this level do I actually challenge my body to reach a higher potential.
I am totally on to something here. I mean, to make a jump from 15 miles to 21 within just a few weeks with just a couple of tweaks? Give your body what it really needs to get the job done and it just might surprise you.