Sunday, June 12, 2011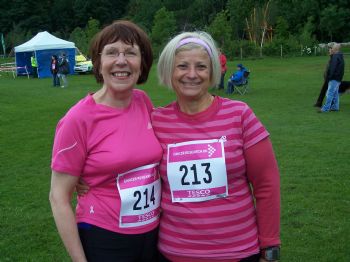 It's become an annual event for me...Cancer Research UK Race For Life!
I walk/ran my first one back in 2004. A novice to the whole idea of running! I finished it red faced slightly out of breath but elated at my accomplishment. I did it in tribute to my mom's battle with cancer.
The local park had been my testing ground to what I was capable of....and what I could/would become. Every June since I have laced up, pinned on my front number and my tribute back sign (for my mom) and joined the other thousands of women to help bring awareness to the dreadful disease and raise much needed funds.
The distance is just a bit short of a measured 5K (3.1 miles) but long on sisterhood, comaraderie, smiles, friendships and good vibes, oh and a LOT of Pink!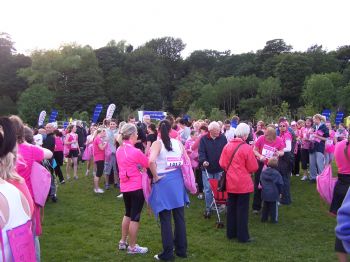 My walk/run style has changed to a complete run and my finish times (recorded only by me) have dropped minutes.
This is the race that marks my next year of running and something that I will continue to do every year. This year, as in previous ones, I met up with my neighbor and started the course with her.
She's a bit quicker and is always waiting for me at the end. Of all the races that I run, this is one that remains very special to me. It's a tribute... and every step I take through that park is one that I wish I could have with my mom....so I run and know that I carry her along in my heart....every medal I receive at the end I dedicate to her!