Sunday, June 12, 2011
It worked out that David and I have 3 days off. So next week- is a road trip weekend. We do love our road trips.
We're going to Columbus, Ohio for pride and the Bat-n-Rogue soft ball games. Columbus puts on a great Pride Celebration. I wish that there were healthier choices in food then the usual carnival fare. With all the weight conscience gay men and all the holist Lesbians we should have more then sausage and elephant ears. I would have expected an all natural vegan wagon with soy based deserts. Or maybe a high protein/low fat/ no concentration sugar, shake shack, Maybe even instead of a mass commitment ceremony we have a mass commitment ceremony to fitness. Instead of kissing your partner we aerobicise for 20 minute.
Bat-n-rogue is the combination drag show and soft ball game. It held on Sunday after Pride. I have never been-but always wanted to. It's suppose to a hoot. The perfect topper to Pride weekend.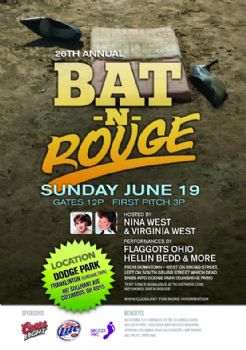 Here is a picture of Columbus from 2009