Something funny happened on the way to Lake Chesdin today. I discovered I can "officially" wear shorts.
It all started waaay back on yesterday evening when my significant other, Vincent, said he wanted to take "Tranquility" (our boat) out for a spin. He had one condition. Only one. I COULDN'T wear jeans, a long skirt or even capris. He said I wouldn't be allowed on the boat unless I had on a... bathing suit. (Insert screech here.)
"Say what now?" R-E-W-I-N-D. Come again?
A little background 4-1-1 on Vincent. He is an easy man to love. He doesn't ask for much. He never puts any undo demands on me or my time. He realizes I have outside interest and hobbies that don't include him and he's completely okay with it. He likes the fact that I'm independent, saucy and non-filtered. Trust me, he has his "bros only" outings. Hey, I'm cool with that too. We're polar opposites in other ways. He doesn't cuss - I on the other hand have been known on occasion to out-cuss a sailor. (I'm getting better. I realize it's not a positive trait. But hey, sometimes an F-bomb is completely necessary as well as therapeutic.) But I digress.
Back to the story. He said, "You need some sun on your legs and you're gonna be too hot if you wear long jeans like you always do." My man had an opinion about something? Where did THIS come from? If I ask about anything and I'm usually greeted with, "Whatever YOU want baby." I'm telling you I could shave my head bald, etch hot pink tattoos on my skull and he probably wouldn't notice or care. He's non-judgemental that way. Love him!
Needless to say the bathing suit request threw me for a loop because 1) I don't have any that fit and 2) if I DID, I'm not wearing one out in public. So I asked, if I wear something longer than underwear but shorter than capris would THAT be agreeable attire for him? He thought a second then said, "Sure."
Because I have not worn shorts since the Bush Administration. (Yes, the elder Bush, the one before Clinton.) I was a little intimidated.
Here was my compromise. The only short, weather appropriate bottoms I could find was a knee length patch denim shirt. (I swear, this USED to be stylish.) The good news is I could take a pair of scissors to the hem, and you wouldn't know this isn't how they came. Plus, I had to take in the sides with a sewing machine. (YAY!)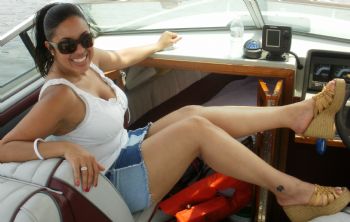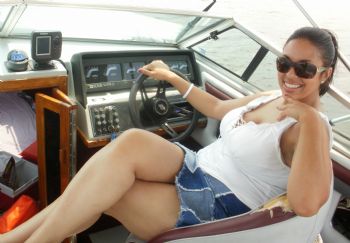 But here's the kicker...Y'all ready for this? I was completely comfortable showing my legs. This is huge! Monumental! This is bigger than cheese in a can Spark Nation! I haven't worn anything shorts for fear that my dimpled thighs look they were caught in a drive by shooting, seriously! But now, it's more smooth and toned and I plan on going out soon and making my first shorts purchase since probably I was a teenager! (Thanks elliptical!) Who knew that after all these months of trying to whittle my waist, tone my arms, develop a rear end that I actually toned AND nearly eliminated most of my cellulite? How'd I miss this? I guess it IS just regular fat after all. Hmm. whouda thunk it?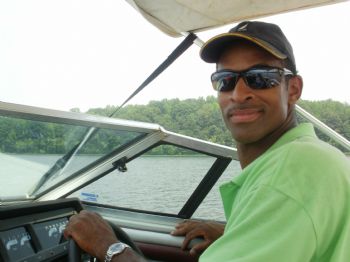 Captain Vince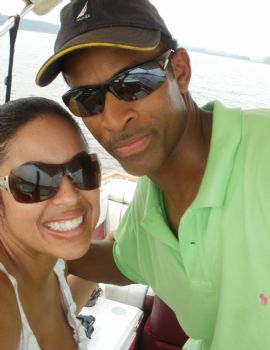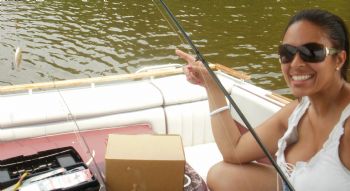 My BIG catch! If you look real close and squint, you'll notice a little fishy on the end of that line. Yup, I got that one.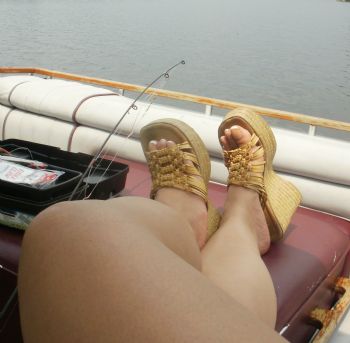 Here's how I spent all afternoon. If I drank, I would've had a cool umbrella drink in one hand and a fishing rod in the other!