Friday, June 10, 2011
So these progress photos are probably some of the best I've seen since I've begun my journey, they were taken from the start of Turbo Fire's Inferno program, to about a week later... If you're a reader of my blog, you'll remember that I couldn't complete the Inferno program. I was STARVING all the time, and I was raiding the cupboards all nigh long to fill my poor stomach up :(
Because of this, I suppose I felt as though I failed the program somewhat, but I didn't let that stop me. Inferno taught me some lovely new recipes and got me craving some more vegetables and healthy foods, so in that aspect I succeeded.
But when I took the progress photos... keep in mind these photos are one week apart.... I was shocked and amazed at the difference in my body, especially in my midsection. See for yourself!
Front view, left side before and right side after. See a major difference in my abs!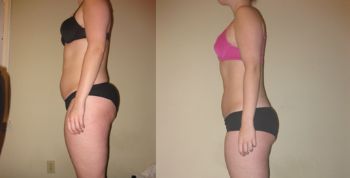 Side view. Even my booty seems like it shrunk a bit! :)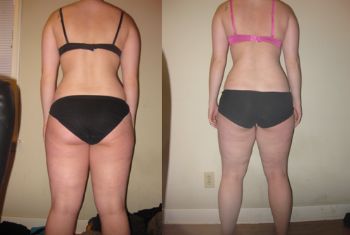 Back view.
All in all, I'm loving Turbo Fire and it's really blasted me into better cardiovascular shape and even better looking on the outside! I can't wait to actually complete the program and see what happens then :)