Day three of the 100 Day Challenge went along pretty smoothly. I got up early and hit the gym so that I could get home early and have a date day with my boyfriend. We both stay so busy most of the time, so we try to set aside some time for each other. I've been incorporating some more active stuff for us to do to get us out and moving. I have him playing tennis with me now which is a blast (even though we are terrible!). It's still quite fun and it gives me a great workout! Today we decided to go to the movies and then I cooked up a nice healthy dinner. Eric is a bit of a comic book nerd so he wanted to go see X-Men: First Class. I wasn't sure if I would like the movie but it was really good! After the movie I made made some extra lean ground beef burgers and corn on the cob.
On another note I went to the gym this morning and it was virtually empty. I think there were less than ten people there working out. It's been so quiet there all week, I'm not complaining it's just crazy how empty it's been. Today, I decided to take advantage of the emptiness and try a new machine. I'm a big treadmill user, but I've been curious about the Arc trainer. I looked into it and I heard it was supposed to be easier on the knees than a treadmill. I decided to try it out today. At first I wasn't sure about it, but once I got going it was kind of fun! I decided to do half my cardio on there and then finish off on the treadmill. The arc definitely kicked my butt, but it was nice to take a chance and get out of my comfort zone! That is something I've really been trying to work on is taking those little chances and getting out of what I'm comfy with. That is why I've decided I'm going to start swimming at the gym twice a week. I joined the gym last year in August and I've never used the pool. I keep telling myself that I'm going to start swimming there, but I keep wimping out. I even went as far as buying a bathing suit last year when I joined! It's a cute bathing suit too! (see photo below, lol).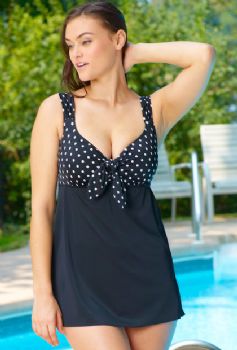 I did wear the suit a few times last summer when we visited my parents. I swam as much as possible when we were there last summer. It was actually a tad tight last summer when I put it on, so I decided to try it on today to see how the fit was. I was a little worried that it would be too big in the top, because I have big hips but a small bust lol. However, when I tried it on it actually fit really nicely. Usually, I don't feel comfy in swim suits, but since this one has the skirt thing I feel good in it. So, on Monday I'm going to take a huge step out of my comfort zone and I'm going to use the pool at the gym. My boyfriend thinks I'm being ridiculous in thinking of this as a big step, but for me it is. I know it's a super simple thing, but it's something new and new things can be scary. Then again joining the gym a year ago was a HUGE scary step, but I did it and I'm so happy I did. That is one thing I love about being on Spark and doing all these challenges they take me out of my comfort zone and challenge me to do new things! :)
06/03
1. One diet soda or less per day: DONE! Half of a Diet Barq's Red Cream Soda
2. Drink at least 32 ounces of water each day: DONE! 32 Ounces
3. Workout at the Gym 4-5 days per week DONE! 2 Hours at the Gym
4. Do at least ten minutes of light cleaning each day: DONE! Did the dishes and picked up the living room
5. Track all food and fitness minutes on Spark each day: DONE!
6. Do strength training at least 3-4 days per week: DONE! Lower Body and Core
7. Start going to bed and getting up earlier: DONE! Up by 9:00 am/ Going to bed by 12:00
8. Be more positive and encouraging to myself and others: DONE! :)
9. Blog on Spark at least two times a week: DONE!
10. Eat more fruits and veggies everyday: DONE! Corn, onions, banana, and strawberries
Daily Nutrition Goals:
Calories/Goal: 1,990 - 2,340 Actual: 2,213
Carbs/Goal: 252 - 364 Actual: 283
Fat/Goal: 50 - 87 Actual: 77
Protien/Goal: 60 - 196 Actual: 71
Exercise: Two Hours at the Gym!