Where I am now-
My current stats
Weight: 127.6
Measurements
-are important because it helps us see the bigger picture. Some times the scale is at a standstill but that doesn't mean our bodies are!
So we need to keep track!
(pick AT LEAST 4 of these you will track for the next 3 months)
-calves:
-thigh:
-hips:
-waist:
-chest:
-bust:
-upper arm:
-forearm:
-neck:
If you don't know how or where to take measurements, find out how here:
www.sparkpeople.com/resource
/fitness_articles.asp?id=1281
Post a "before picture" of yourself in the team picture area! Go here: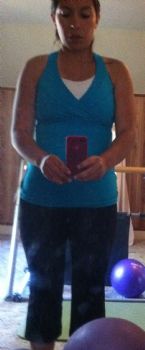 And start thinking about how you will take on the next 3 months. Sure, we are going to be hot, sweaty, and vulnerable to unhealthy food choices.
It's summer. It's vacation time. Don't let this get in your way! Focus on the awesomeness of YOU!
My biggest summer weakness is my food intake. I don't usually plan my meals and therefore when I become hungy I eat what ever is available. Also working out later is a weakness of mine during the summer. I need to workout before 7 because of my kiddos.
Getting fit and feeling awesome is important to me because if I'm not I just make the rest of my family miserable.
And last but not least- what do you want to accomplish over the next 3 months? Tell us at least one fitness related goal-(anything goes!)
* I want to be at goal weight! 115
* I want to fit into a size 4
* I want to be in the best shape of my life
* I want to be a healthy eater
* I want to be able to say that I tried my hardest in the 3 months of the challenge. No slacking off.
Report back by next Tuesday, 'cuz Wednesday June 1st is the official start of The UV Project!