Today I stepped on the scale to reveal........... 199.6 pounds(may not seem like much to the skinny minis out there, but it's a major thing for me) !!! FINALLY, under 200 lbs!! Makes me very happy.... It's been..... at least 3 years (maybe even 4... I'm having a hard time remembering) since I have been here.... it feels good... I have to admit.. I am having a hard time believing it and weighed myself.. probably... 4 times... but it stayed the same under 200 number every time!!... that's 47 down from my January starting weight... and.... it's 75 pounds down from my heaviest weight!! Gosh it sounds kinda measly when I see those numbers..47 doesn't seem like much... but I'm on my way to my 100 lb weight loss goal! Since I don't have many pics on here of my before really, here's my most embarrassing:
Here's a photo I came across from me around my heaviest weight....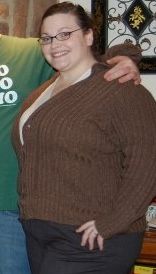 And here's a photo of me as of about a month ago. I don't really have any full body shots, but you can still tell I've lost some weight in the face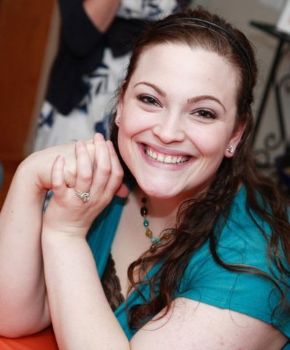 EDIT! Full Body shot -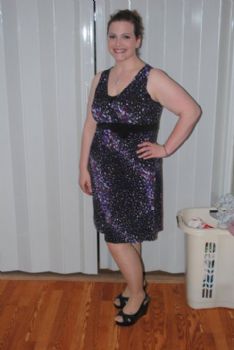 I don't knwo why I haven't photo documented my weight loss... I just haven't... I have learned to hate being in front of the camera fully body and only behind it for so long... it's rare for me to have body shots..
I am really excited (even though the negative bitch inside me is trying to take over with her nasty thoughts about failure! ugh. I won't let her win!) and it's been really hard.. and it continues to get harder to lose the weight, but I haven't given up! June is a special month because I joined a gym (again!!) around June 21st of last year.. and it's the first time I have actually still been using that membership a year later instead of just paying the fee!! I did some slacking last year... but I have definitely gotten my money's worth this year! YEAH for consistency!!
I was talking to my Fiance, Cye (my ROCK!! My biggest supporter!!), last night and he was telling me how good I look and how proud of me his is... and we were talking about the food we eat nowadays (don't get me wrong, I still eat bad stuff every once and again)... and I just said "I am so used to eating this way now.. it doesn't even bother me. I enjoy the food I eat now and I feel a HECK of a lot better eating well".... It's so true... everything they say about getting healthy is so true.. you just have to push that lazy ass self out of the way and TAKE YOUR LIFE BACK, GET IN CHARGE!! way easier said than done though, right?! lol
Also, Another thing I have heard some people say is that I'm an inspiration... which I an very flattered by.. but confused.. because whenever I consider somebody an inspiration... somebody like me does not pop into my head. lol. It's always somebody who is truly an inspiration... they did something amazing.. and I wish I could be more like them because they make it seem effortless to be so amazing... and what they're doing comes naturally in some way. I don't feel as though I am inspiring in any way. LOL... I feel like I complain wayyy more often than an inspirational person should. I feel like... this is so hard and takes so much work that there's no way anybody should want to take advice from me, who's failed so many times! lol. However, it does make me blush and makes me feel really good that somebody would consider me inspiring, whether I believe them or not! haha
I go see my nutritionist, Krystle, this evening... can't wait to give her the big news on my weight-loss. She has honestly been my key to success and has helped to keep my going on this journey this year!!
Just over 4 months until we get married in Jamaica!! SO excited!!