Monday, May 30, 2011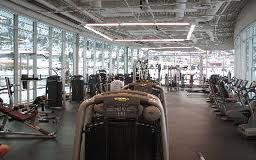 Just a little up-date, I'm doing fine, a little off this week end, didn't choose as healthy as I should have in the restaurant, but alas I'm not going to worry about it, I did the best I could lol!
The pic above is the work out room at the pool where I go, haven't used it yet, but when this knee is replaced I sure will!
I lost 3 lbs so far in the past few months, swimming everyday, but have noticed great strides in the numbers..diabetes, cholesterol, etc, so woo hoo it is working..I have lost some inches also!
All in all I am very happy with the last 2 months results....slow, but to me great progress...now for June...*Maybe with a little more work, a few more lbs???
Thank you Spark friends, one and all, for all the encouragement and support, I know I would never have settled into this healthy lifestyle without you!

Elaine