Last night was my 2nd official 5k run. Thinking back when I started my journey in March 2010, never in my wildest dreams did I think I'd do another run. I set out last year on my journey to finish the 5k. That was my goal, to at least finish it. I finished that run in 42.31 minutes and only walked 3 minutes of it. I was so proud of myself & that sense of accomplishment. The one who never has been a fan of running to run & to run that long, but I did it! I felt great!!
I am pleased to announce I took on the 5k run challenge again & I am very pleased with myself. The past few days I have been battling the self-doubt & lack of excitement. But then yesterday, my nerves kicked in full gear. Once I got to the field & felt the excitement from all of the girls and runners, my nerves relaxed & I took it all in. Here is what the field looked like when I arrived….Girls ready to run ~ everywhere!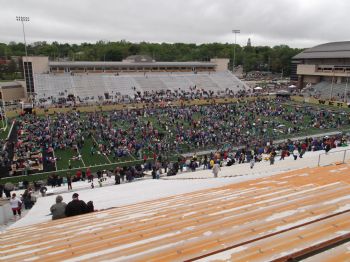 There were 55 schools & something like 2,200 GOTR participants. Not to mention all of the wonderful spectators in the stands or along the route to cheer us all on.

At the start of the run, it was windy & chilly ~ a balmy 49 degrees. After the run began & we were close to halfway point it started to rain. Nothing too bad, but then it kept getting heavier. By the time we arrived to the finish line we were soaked & cold! All of that didn't matter, what mattered was WE all finished. Just to let you know, I was with my daughter either right beside her or just a step behind her the whole way. Mom's not so slow anymore.

Here are some pics from our evening.
The girl who inspired me to do these runs & who got me started on my journey to a healthier me…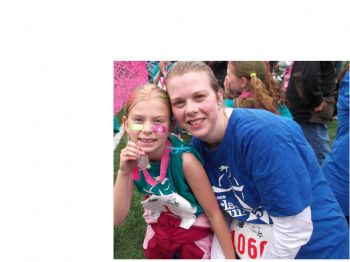 My inspirations to keep on going when I want to quit….my darling daughters (my dh too but he was taking the picture) Can you tell my youngest is not too happy? She was cold & wet too.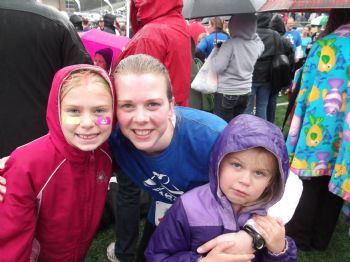 My final time…
I made it & I feel

…. also really wet & cold by the time we reached the car!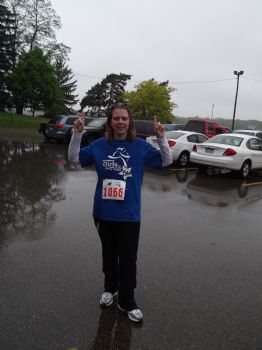 Thank You ~ to ALL of my SparkFriends who have been beside me offering support & encouragement to keep going on my journey. There are too many to mention, but you all know who you are. Whether you sent me encouraging words, SparkGoodies or posted a quote on your page ~ all of it helped. You are the best SparkFriends ever!!
I have to send a special "Thank You" ~ to my virtual running buddy TWINPOWER7, I couldn't & wouldn't have done all this training without your encouragement & support! Thanks, Kristi! What's next for us?

I finished what I started!