Looking at my last blog entries together as a whole I can see I am 100% your typical yo-yo dieter. I do fine for a few weeks, then I fall of the wagon and quit altogether. That whole "get back on the wagon" thing seems to take weeks or even months to happen for me.
I have a new motivator in that I had a scare this week. I'm hoping it jolts me into reality and helps me stay on track. I've been made fun of for my weight. I've been ridiculed for my weight. I have been shunned and/or excluded because of my weight. But this time I was scared because of my weight.
I have a stressful life and a stressful job. Period. If I want to feed my children I will continue with my current job because I live in an area where jobs are hard to come by and I'm not able to move because of personal situations. So stress is commonplace for me. I've not found it unusual to feel a little numbness in my face when I get completely boggled. This happened a few days ago and I didn't think much of it. I went on at my desk with my work and then realized I was also feeling some tingly/numbness/heaviness in my left arm. Well, that's not a completely new thing but it got my attention although I kept on working. A little while later I felt pain in my jaw. My body, by mere intuition I suppose, went into emergency mode and I realized I needed to do something. I didn't feel I needed an ambulance or even a trip to the E.R. so I called my doctor's office and was told to come right on out.
What they should have said was to come out and wait a couple of hours and we'll see you once it's over and you're starting to feel better. When they got to me my blood pressure was normal. The doctor, however, was concerned. She ordered bloodwork to check my heart and a CT scan to check my head. She says she's leaning toward something neurological and wants to make sure I haven't had a stroke.
A STROKE?!?! You've gotta be kidding me. I'm 35 years old! That's way too young to be having a stroke. But then again, numbers don't lie and when they weighed me in it dawned on me I am heavier now than when I was pregnant...and I gained 50 pounds during pregnancy. I'm a pretty plain spoken person so I asked the doc why she didn't just tell me to loose some weight? She raised her eyebrows and said, "weeeeellllllll." It was a tone that said, "Hey! You KNOW you need to loose the weight. You don't need me to tell you that and my telling you that wouldn't do you any good." Had she actually said that she would have been right.
The very next morning I came back to SparkPeople.com and began tracking my food. Didn't take me long to remember how to make better choices...I know how to do it I just most often choose not to. I even did well that evening on a church outing to the bowling alley where everyone was eating burgers and fries and pizza. I ate a salad with grilled chicken. They snapped my picture while I was eating: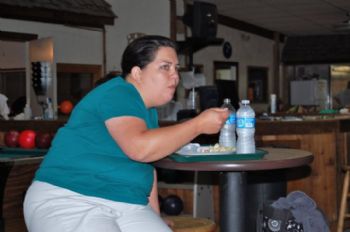 I don't even know that person.
I'm just over 5 feet tall so there's not much room to carry around 200 pounds. My face is lost in all the fat. I can't sit comfortably because of all the fat. I am miserable. But when I look in the mirror I DON'T SEE THIS PERSON. I've often wondered how it is people suffering with anorexia can't see what they really look like. Appears morbidly obese people have the same issue, or at least this morbidly obese person has that issue.
This is not, by any means, the way I see myself but look at this picture from high school for comparison: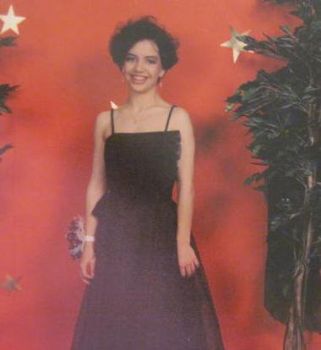 I don't intend to ever be that thin again. I'm not sure I even weighed 100 pounds in that picture and the dress was, I believe, a size 1. The odd thing about it all? I thought I was fat. I've believed my whole life I was fat. My personal vision is so completely distorted. No matter. Scales don't lie. For all intents and purposes I weigh 200 pounds. My heaviest. My worst. And now I have to worry about it killing me at a young age. I have a child with special needs who will need me to live as long as possible. As long as I continue to eat unhealthy food and neglect exercise and sleep, my longest possible lifespan isn't going to be very long at all.
I cannot continue to keep doing the same thing and expect a different result. I have to go back to tracking my food and I've got to work in the exercise. More importantly, I've got to focus on God the Father and springboard from His peace into resolving my emotional eating. Things to consider.
And so, with a deep sigh of resignation I am back on the wagon and hope that one day the end of this blog will be a success story worth sharing. I'll keep you posted.