Wednesday, May 18, 2011
I had some fish that I cooked with a recipe I found on hungry girl. Take 1/4 cup fiber one, grind it up. Add 1/4 cup panko crumbs, 1/2 t garlic powder and 1/4 t onion powder, 1/2 t Cajun spice (HG used old bay but I didn't have any.) Dip the fish in egg substitute then in the fiber one mixture. Bake at 450 degrees for 15 minutes on a rack.
These were so crunchy and tasty. I really loved them.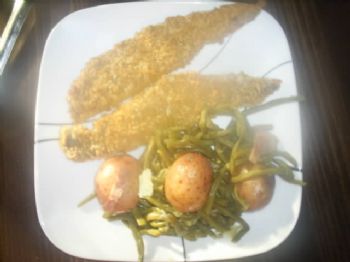 I served it with beans and small potatoes. Yum Yum