Yeah it's me.... posting a blog. I know - been MIA and have missed everyone here (and apparently I missed some other stuff going on here - Grrrr - Love ya Yoovie!). If you haven't seen my few and far between status updates - I've just been super busy... living. It was finals/graduation/birthday for our daughter the first week of May. The second week was a mother/daughter/Ethan trip to Savannah to celebrate! Then it was turn for hubby and I to mini-celebrate our 25th anniversary (big celebration is in September - Alaska crusie!). Now it's get ready to haul the RV and ourselves from NC to CA for summer camps! Never a dull moment!
I have been getting in some fitness every week but not logging properly :( - I did run my May 5K race so I am super proud to have stuck with my goal for running a race each month Jan-May! Now I have to figure out how to stay motivated to run in the Cali heat!
I have been eating semi-badly... not nearly as bad as it could be but not great (can you say too much sugar???) But, I am not beating myself up - those days are DONE! I'm slowly getting back to eating right - it's all falling into place! I signed up for this May Proving Grounds Challenge and had intended to post my updates weekly but that just didn't happen so I'll do it the first half and last half of May - here we go!
Every Day - 1 Challenge4.
Do something that makes you feel strong:
I resisted MOST of the yummy goodies I made for my daughter's birthday!
5. Do something that makes you feel free.
I bought a skort and some sleeveless tops for summer.... tired of hiding my arms and legs.
6. Do something that makes you smell really bad.
I ran intervals.
7. Do something that makes you think hard about your goals.
Began working on goals for summer when I am doing camps.
8. Do more than you think you can handle.
FAILED - it was just a lazy day with nothing more challenging than fixing a drink - I so needed that kind of day!
9. Do something to release excess tension/stress/anger.
Did my new yoga video
10. Do something you can brag about later.
I made myself get up at 5 am so I could go for a long walk before hitting the road to Savannah.
11. Do something right for all the wrong reasons.
FAILED - was to busy enjoying Savannah to even think about it!
12. Workout at a different time than usual.
I did a short run/walk at 8 pm after being on the road for 8 hours!
13. Do something that makes you feel like a gladiator.
I worked my arms for the first time in two weeks!
14. Work on your core.
I ran a 5K race, came home and did 200 crunches... and then went out for BBQ :)
15. Surprise yourself.
Hubby and I walked around a cute NC historic town and before we knew it we had been walking for 2 hours/5.3 miles!
16. REST
Hubby and I went to the Outer Banks, NC and walked on the beach and took some pics...totally relaxing!
17. Break a personal record.
I was still on vacay with hubby - I think I broke the record for eating the least amount of food than I had for the previous 3 days :)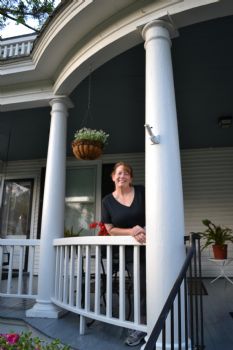 How do y'all like my new front porch? I wish!! The porch of the bed and breakfast we stayed at.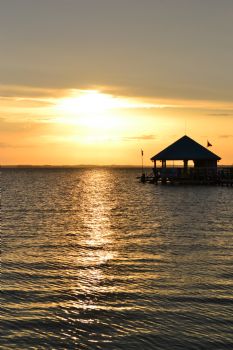 A beautiful sunset on our last day at the Outer Banks (this is over Albermarle Sound)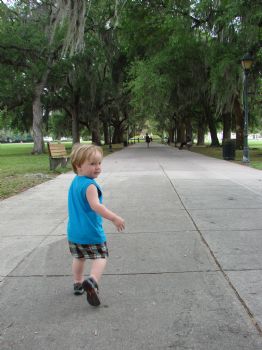 Forsyth Park in Savannah with Ethan leading the way!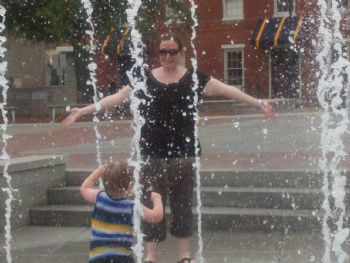 Ethan and his mommy playing in the water in downtown Savannah - pure joy!
Have a great rest of the week! Hugs!!