Friday, May 13, 2011
It has been a great day and winding down is just as fabulous!!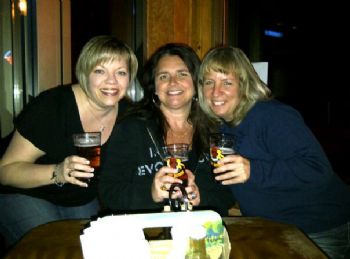 Above is a picture from last night with 2 wonderful ladies - Josee (on the far left - my roomie) and Suzanne at the Pump House - trying Blueberry Beer (not something I would try again lol).
I have heard about how these conferences forge lasting friendships and now I know why. It has been an amazing trip so far. My roomie is out at the Lobster dinner so I am on my own (so I will be doing the Moncton ITour which apparently takes about an hour) and tomorrow evening is the formal dinner so we get to dress up (even if we are all ladies - I am looking forward to it).
Our speaker this morning - Mark Black was amazing how he spoke to Living Life from the Heart (I bought his book and his story is incredible) and he was amazing in that he was there for us even though his wife had just given birth an hour and a half before to their son (joining his lovely daughter Emma)... I told him who said Friday the 13th is NOT lucky. The trade show on breaks was great and while I did not win anything, I am inspired to plan my next trip to visit yet another new place. Check out his FB page...
https://www.facebook.com
/TheAdversityAdvisor?sk=ap
p_174236709278965
One of the exercises in the conference with Mark was to write our own obituary and I tell you friends, I want to be remembered as living a passionate life and that YES I will be living near the ocean one day ... and it can happen right here in Canada!!

Cheers my SP Friends to Living From the Heart!!! Make every moment count because you just never know ... if tomorrow will come so enjoy NOW and the Present Gift that it is!!