Tuesday, May 10, 2011
Tomorrow is my rest day from exercise.
Saturday - 3.5 mile run
Sunday - gym and badminton with family and gardening
Monday cycled to work and then the bank then spinning class that was EVIL!
Tuesday 3.5 mile run then gym session, then quick swim and then cycled to work
Wednesday just a cycle to work!
Thursday will be back to it though!
Feeling good though, last night as RPM (spinning) the instructor used a mix of tracks from previous releases, it was really tough but I felt rally great afterwards.
This morning's run was great as well, I went up the gentle cliff path and then along the cliff to the geoneedle and came back down the steep zig zag path to the base of the cliffs. and then along the seafront.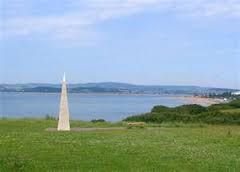 The view was great from the geoneedle as I turned round as the sun was out but it was not yet warm enough to make running uncomfortable.
Next run will probaly be on saturday when I will try a flat run as see if the hill runs have helped my time?