This has got to be the best Mother's Day ever! I had a goal that I set months ago, and I accomplished it AND got to spend some unforgettable fun with my kids and grandkids in the process!
Back in March I decided that I wanted to try to run a 5K. So I checked out the races that were coming up locally and picked one that seemed like it would be far enough out that I could actually be ready to do it. When I noticed that it was on Mother's Day, I thought, "how cool is that – I could do this as a Mother's Day gift to myself" so I registered. Then, I thought, one of my other favorite active things to do is go to Jazzercise, so I told everyone, "on Mother's Day, I'm going to run a 5K and go to Jazzercise." AND – Idid it!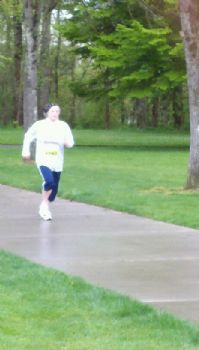 It was great day for the race. My daughter and son came to watch and my daughter brought her 8 year old and 6 year old. My daughter took tons of pictures – which was awesome. I finished the race in 34.08, and my goal was to finish in 35, so that was great. I won first in my age division (I know, I know – there were only 4 women in my age group, but still….) They also had some random prize drawings and I won a certificate for $100 off registration with Team in Training, which I have been considering doing anyhow, since I'd like to train to run a ˝ marathon.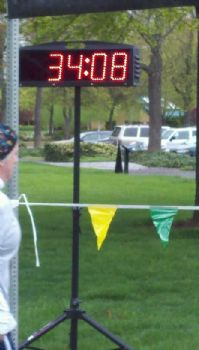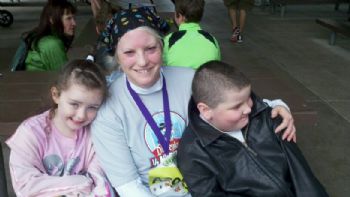 After the race, my oldest son, my sister, her son, and I went to breakfast. Bloody Mary's and omelets – yummmmm. My sister was totally surprised, because she wasn't expecting her son to be there – I called him and invited him and she didn't know. She said she never expected to see him be able to get up and be anywhere that early in the morning, which is why I invited him because I knew she would be very happy that he did it. We had the waitress take a picture of all of us, and it was perfect!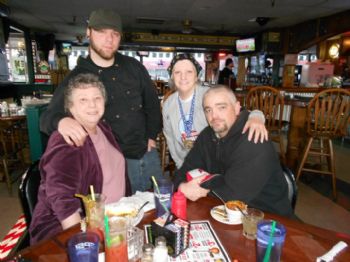 Then I came home and my other son had brought me flowers. An 18 year old boy thinking to buy flowers for mom? Without someone telling him to? I was blown away!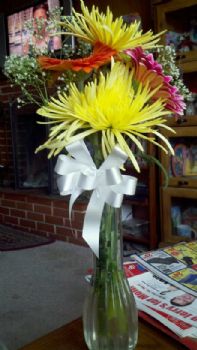 Then I relaxed for a bit before I went to Jazzercise, where the instructor announced to everyone about my 5K that morning. She also let me pick out a favorite routine for us to do – how cool is that?
When I got home, my daughter came by again with a card and a plant for my garden. I had not expected to see her again after she was at the race this morning, so that was a very pleasant surprise, too.
So, all in all, a totally rocking day! I met an awesome goal. I got to spend time with my kids and grandkids in a positive way. I got to surprise my sister. I feel so blessed and lucky and content with life.
Now – off to the tub to soak in Epsom salts!