Okay, its Mother's Day weekend and I've been on SparkPeople for a full year and still counting. How do I keep myself challenged and moving forward in living a healthy lifestyle? By seriously thinking about something I've never had the courage, determination, or self belief that I could do an actual race. Its one thing to go out my door daily and walk the many miles I do for a workout. Its another for me to push the envelope an undertake 5k training then step it up a notch by taking my walking to a walk/jog level. How is my 43 year old body going to handle it and like it? Have I improved my fitness level enough? Do I have the endurance? I did the 5k Your Way SP program and did a virtual race, and it felt empowering to do so, but still not getting me out of my "comfort zone". My husband has asked-"Why are you training? Why walk all those miles you do?" My answer has always been, "Because I CAN." So, I felt its time to put up or shut up and stop saying one day I will do a race. That sounds kind of like a New Year's Resolution with no true goal set. I was determined to do 2 5k races this year. The 5k Your Way program gave me the knowledge, experience, and self belief I needed to get me on the path now to get up to a true Starting Line and have the victory of crossing an actual FINISH Line.
Anyone who's been in North Carolina will know in the Spring it starts to heat up and humidity kicks in. So for my first race I wanted to aim for an early race before the "Hot & Humid" days really kick in. Guess what appears- a 5k race event that is being held to benefit the local running clubs for the kids in my county from elementary school to middle school. These young kids have been training after school for 10 weeks! When I saw the posted bulletin in my son's school I knew this was the one I wanted to do because what a great cause and way to "spark" young people into living healthy lives.
I registered online and picked up my packet last night. Learned something new about 5k racing and how someone wears a bib with the chip on its back. I printed out the 5k charity race tips article from SparkPeople and read that this morning while eating a good breakfast and sucking down 4 glasses of water. I did everything I could to prepare and had the benefit of walking the 5k route on Thursday and Friday. Then last night since I still felt sore from an earlier "over training" workout day this week, I decided to try a hot tub with lavender bubble bath to soak, popped in a yoga dvd and got to bed early.
While my guys were sleeping this morning I was up bright and early by 5 AM so I could pack my bag, eat breakfast, and did a yoga dvd to help get my mind right and stretch & strength my body for the race ahead. I was taking all those tips seriously and wanted to get good parking especially since it was VERY foggy outside. I was a bit nervous but I kept pep talking myself saying, worse comes worse just walk it. I wanted to walk/jog it, but I knew I could complete it with walking no biggie. I was armed with my ipod shuffle, gymboss set for intervals, and a ton of courage and determination. To keep me accountable I reported on SP, called my folks to give them the news of the race, and had my 2 guys telling me to give it my best shot.
So in the foggy morning, dressed in shorts, sleeveless workout tank, and a windbreaker I headed out on the warm up trails at the recreation center and fast walked 1.39 miles in 19 minutes so I could warm up my cold body parts and do some stretching. This gave me the momentum to mentally prepare myself for the race. When I first arrived not a lot of people had shown, but by the time I finished my warm up- WOW! There was over 300 people racing this event. I watched, listened, and absorbed it all in feeling the hyped up energy and let it push me on. I decided to enter the mob at mid pack and we all started off jogging/running. Once people started getting into their own paces I started my gymboss and did my own training style with hopes of crossing the finish line before the last interval. I stuck to it, stayed aware of my breathing, made sure not to get in any zone and forget about the other runners around me and my surrounding and mentally cheered myself every mile marked I passed. Let me tell you, sometimes it can be a little disconcerting to see kids passing you on the route jogging but then I thought- look at those kids go, WOW go girls & boys GO!

At the final bend I hit my jogging pace and crossed that FINISH line with my legs, arms, and heart pumping. Its amazing hearing total strangers cheer you on as you run towards that finish line. I kept moving forward and did a walking cool down since YES my heart was racing, I was filled with an indescribable emotion and just wanted some alone time from the crowd to cheer myself for making body healthy enough to reach a lifetime goal. I did a race and beat my own fast walking time. My time was 38:04 and I placed 227 out of 341 people, not too shabby for a 43 year old mom who last ran something like a race back in her school gym class days.
Yes, of course I got the cell phone out and called my husband to give him the news and my time. Want to know the best thing I heard today- my husband called me an "athlete" with true pride in his voice. I cheered every kid that crossed that line and hope they continue on their own lifetime journey filled with good healthy and being active.
There is another race coming up in June around my 44th birthday. Its to benefit the local kids scholarship program, so you know I will be doing it. Back to training and a time to beat. What better way could I celebrate a healthy, fit, and active ME as I enter into another year of life- sounds like a "no brainer".
Never lose that belief in yourself because with it you find your inner courage and determination to face your fears and challenges with a smile on your face. Its about meeting your personal bests and rejoicing in each victory big and small.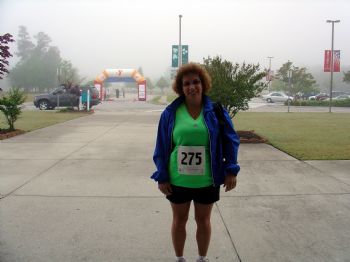 Me at the beginning of my foggy morning 5k race waiting for the event to start.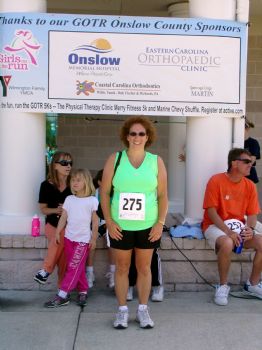 Me at the end of the 5k filled to the brim with pride in myself and stronger inner belief that I can conquer the challenges I put in front of me.