Sorry…it's a long one! Last weekend, I was blessed to run my first half marathon with my sister, Lydia (BRIDGE1028) & one of best SparkBuddies, Mel (MGJARVI). It was their first half marathon too! Running a half marathon had been a dream of mine since late 2009. I had always heard such great things about the Flying Pig, so I knew that my first one would have to be my hometown race.
We started the weekend by meeting in the lobby of our hotel, The Millennium. Even though Mel & I have been SparkFriends for what seems like ages, we had never met until now. It was such a thrill to see her in person & finally give her a big hug! After the quick round of introductions, we headed over to the expo. Let me tell you, these people know how to put on an expo! You get your race packet, wind your way through countless vendors (grabbing lots of freebies along the way), pick up your T-shirt, backpack & poster, then activate your timing chip on the way out. Here's some photos of some of the goodies that we picked up along the way: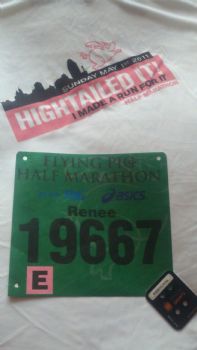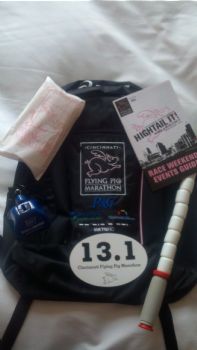 My daughter Laura joined us at the hotel right after the expo & pasta dinner. The rest of the group went out to explore Cincinnati. I was tired, so I decided to stay in, put my feet up & relax.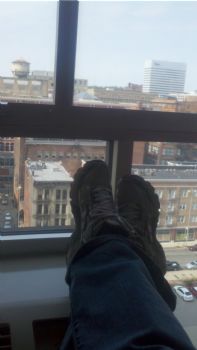 Unfortunately, being alone gave me a chance to miss a few people, including my parents, who couldn't come to the race, and to worry about all the things that could go wrong the next day. Lucky for me I have a couple wonderful friends that dried my tears & lifted my spirits. Before I knew it, it was time for bed.
The next morning I got up, took a quick shower & ate my normal pre-race breakfast. My daughter did a wonderful job keeping me focused & making sure I had everything before we met the group downstairs. After a couple quick photos (thanks to Mel's DH Mark for being our photographer this weekend!), we set off.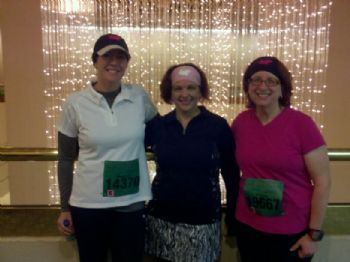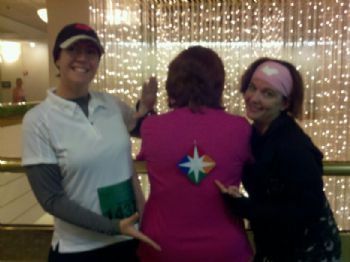 It was about a half mile walk to the staging area line from the hotel. As we got closer, what struck us was the massive number of people everywhere: huddling in the stadium for protection from the rain, in line for the Port-a-Potties, runners trying to get to their starting corrals and spectators trying to find a good spot to watch the start of the race (we found out later that there were over 20,000 people running that day!) As much as we tried to get to Corral E before the race started, we finally gave up & snuck into the Corral D gate once they were gone. It took about 15 minutes to walk back to the starting line, and then we were off & running!
The course wound past Paul Brown Stadium and Great American Ballpark, then over the Ohio River and through Newport & Covington, Kentucky. The first couple miles involved a lot of bobbing & weaving between slower runners & walkers, but once we crossed the bridge back into Cincinnati the crowd finally opened up. I was amazed how quickly the first six miles flew by.
And then started The Hill. I had been warned about the 3-mile incline by prior Pig racers, but that beast is just something you need to experience yourself to truly appreciate. My outer knee starting hurting from almost the beginning of the hill and didn't stop until I started the descent at mile 10. I just knew then that I wouldn't be meeting my goal time of 3:00.
The spectators got me through the most difficult points of the race. There were people all along the route, holding signs & cheering everyone along. I can't tell you how many high fives I got along the way, including ones from Elvis, someone dressed as a beast holding a sign saying "run human run," and from literally half of a local football team. They spoke wonderful words of encouragement when I briefly broke down from pain & frustration. Those amazing fans really helped me and other racers keep going.
The last 5K was fast & fun. My knee pain all but disappeared as I started back down the hill. At mile 12, I glanced down at my Garmin & realized I wasn't going to finish the 15-30 minutes behind as I originally thought! I decided to push the pace & try to reach my goal. Before I knew it, I rounded the last corner and saw that finish line! I focused all my attention on that beautiful "Finish Swine" sign until I hit the mats (with an official time of 3:00:53!) I think I had a huge grin on my face as I crossed the finish line; I KNOW I had one as a volunteer placed my first medal around my neck. I shed a few more tears as the realization struck: I had just completed my first half marathon!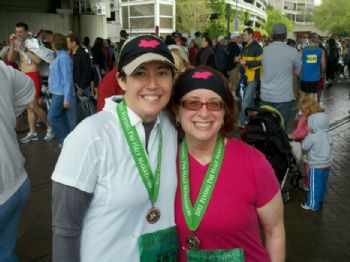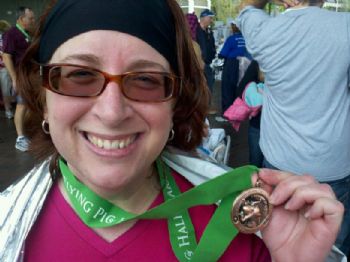 A few well-deserved words of appreciation:
Coach Nancy, you were the first one that made me believe I could run a half marathon. I was so touched and inspired by your story at the 2009 Cincinnati Convention. At that point, I could only run for about 30 seconds at a time. I just remember thinking that if you could work that hard and come so far, so could I. Thanks for helping me realize I can achieve ANYTHING I set my mind to.
Lydia, thanks for pulling the trigger and registering for the race first. You forced me to face my fear of failure and take the plunge. Once you made the commitment, I knew there was no backing out. You don't realize how much I love running these races with you. I promise the next one I choose won't be so hilly!
Mel, thanks for letting me talk you into running our first half marathon together! Being able to finally meet you was one of the ultimate highlights of this weekend. I promise to use my powers of persuasion only for good…no more talk of tattoos (for you anyway.) Let me know when you're ready to sign up for Air Force!
Laurie and WB, thank you for helping me through my many meltdowns over the past couple weeks. You do not realize how much I appreciated your tolerance & words of wisdom. You guys were my rock, and I love you both.
Thank you to my SparkFriends for your support & encouragement during this journey. You're all simply amazing!
And thanks to SparkPeople for helping me lose 70 lbs and allowing me to go from this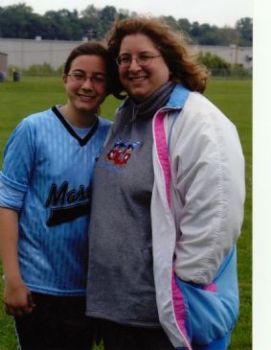 to this!