I have thought of this several times, I need to list all of the things that led up to me deciding to make a change:
Where I was in December 2010...
I had literally given up. I had resigned myself to being fat and dying young. I had tried so many times before and failed. I literally verbalized to my husband I couldn't try again. I felt utterly defeated and weighed my highest ever (340 pounds).
Somewhere between Christmas and New Years...
Several small things happened to me that put together started me on this journey. I will try to remember and list them all here (I may have to modify this blog later if I remember more.)
1. Saw a picture of myself at Christmas and was just very unhappy with what I saw...
2. One night in bed, I opened up my Spark App on my Iphone and started reading IndyGirl's blog (for about 3 hours) I read every single blog she wrote... By about the 2nd hour, I started thinking, "maybe, just maybe I could try again..." By the third hour, I was sure it was possible.
3. My sister called me and said, she was going on a diet again and encouraged me to do it with her. (though we actually didn't end up doing this together)
4. Heard about four messages in a row at church that literally shouted into my spirit, "Now is the time!!!! This is My plan for you!!!!! Just start!!! I will help you!!!! I can do what you can't do!!! Just try!!!"
5. I felt physically exhausted and in pain.
6. I felt spiritually groggy...
7. I found some cheap exercise equipment at a thrift store and decided to buy it.
8. Was walking thru Wal-Mart with my mom and saw a food steamer on the shelf (the last one) and thinking out loud, "I need one of those..." My mom grabbed it up and bought it for me! (She's a sweet Momma)
9. Heard about the Daniel Fast at church and did it for seven days. It was very difficult but prayed ALOT and worshipped God and He infused me with a power I have not had in years!
I know that these things each by themself may seem small but the culmination of them was synergistic in empowering me to start on this new venture. (God was what tied it all together and gave it power to work a change in my life)
What keeps me going...
1. Spark People.com - There are so many incredible resources, tools, motivation and supportive people on here! God sent me Spark People! I am so thankful for this wonderful website!
2. Joined the YMCA- and actually go regularly...LOL
3. I heard a message at church called "I quit (making excuses)" In it my pastor says that he gets frustrated in January when all of the New Years' Resolution people hit the gym because statistics show that the majority of people will quit within a short period of time, but meanwhile he has to wait in line for a treadmill while all of these people who are going to soon quit their resolution get on the treadmill. (I know this sounds harsh but you would have had to hear it in context.) When he said that, I became determined that I was not going to be in that huge percentage of people that quit by spring break! I was going to keep going and going and this time next year I will have results to prove it. I think of this often when I don't feel like going...
4. The more weight I lose, the better I physically feel.
5. I shot Mrs. Perfectionist in me! Every time she rises up and tries to speak, I shoot her again! That all or nothing perfectionist in me has been a major enemy of past diets. In the past, when I messed up, then I would give up! I would tell myself, I'll start over tomorrow, or on Monday! This was really faulty thinking and led me into disaster over and over again. Now, I start over at each meal. Every meal is an opportunity to make wise choices and watch my portions and calories even if I messed up the last one! Trust me, I have discovered that I can really screw up and scarf half a bag of sour cream and onion potato chips and still lose weight!!!! (Though, I wouldn't try this at home, I'm a trained professional!!!! hee hee) It really is about reigning yourself back in and not EVER giving up.
6. The Lord God Almighty, maker of Heaven and Earth and THIS BODY! He has been my ever present help. It is not that I walk around on a spiritual cloud or anything.. Really, I have my bad days, (ask my kids!) But Jesus has put me on this path and continues to carry me thru. He prompts me and guides me and gives me strength to say NO to the apple fritter that my aunt offered me today when I was hungry! I love this quote too, "Do what you CAN do and let God do what you CANNOT do." I think about that often...
7. Getting to buy new clothes!!!!! Wow! How exciting it is to buy new smaller clothes!!! I had no idea this was going to be such a motivator! I bought three pairs of new jeans lately and that is really awesome since I didn't even like wearing jeans in December- I really preferred my "stretchy pants"
8. Making a before/after picture to look at. This was amazing too. I look at it over and over (I know-it sounds vain) but it really helps because in the beginning, everything you do is on faith. You eat less and exercise in faith that your body will get smaller. You really don't believe in your heart of hearts that it will actually work! At least I didn't! And it IS HARD TO LOSE WEIGHT-don't let anyone tell you any different. It is HARD. So when you hang in there and do it and you see a before/after picture it is such a reward for all of the work and it reinforces your determination to keep going.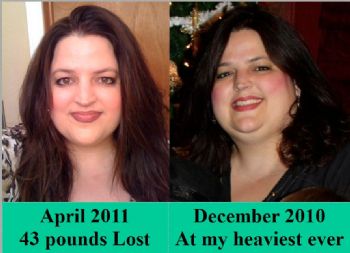 God Bless, and keep on Sparking!!!

Tasha