Wednesday, May 04, 2011
Good Hump Day Sparkfam! What a gorgeous day it is here in Chicago! I mean, I turned the heat off in my truck but its nice & warm in there. Its like 60degrees & the sun is shining. I need a car wash & wax well I need a good detail done on my truck. lol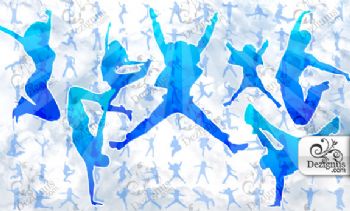 Like the blue people above I am jumping. I am jumping over the hump slump I have been in since November. I mean, I moved around but nothing like I am now. I really lost that time to workout that I can not get back but there is no time like today. So I got up & did Cathe Supersets & did 30mins of her Rhythmic Step. She does too much twirling & I can't stand that. Did I tell you guys I get dizzy pretty easily? Well I am afraid of heights so I guess they some times go hand & hand. Oh I also get motion sickness. If I am in a car or on the bus & they stop & go too much, I have to throw up. Its just who I am. lol
Back to the blog though, I am feeling really hyped so I am going home to do a kickboxing session & I also got a date with Jillian. I missed my workouts yesterday because we went out to dinner. I didn't do bad but I ate my sweet potato fries & my sons fries & I had 2 of his ribs. I also bit off my insane chicken sandwich with bacon & onion rings. OUCH! I am not gonna let it get me stuck in another rut I am going to keep on moving.
I went back to very beginning of my joining Spark trying to infuse what I learned then with what I know now. I ate everything I didn't give up many of the foods I eat but I cut way back & I had a snack or two everyday. Here's a preview to what I ate one a day when I was heavier:
Breakfast:
1 pancake w/butter & heavy syrup
bacon
1 c. of raisin bran
1 c. whole milk
4-5 cookies - lol
Lunch:
2 slices of white bread
3 slices of turkey
3 slices of ham
Popsicle
Red Vines
Dinner:
Rice
Wendy's chili
Vanilla Frosty
Peanut butter cookies
Strawberries
Oil popped popcorn
grapes
strawberries
1921 calories
I was actually losing with this program! Can anybody tell me what's wrong with this meal? Well, the frosty & the pancakes & cookies for breakfast, how was I losing? Well, I had insane workout program & once I implemented this workout, I started to eat better. Now above shows how I gained the weight. Now I need to add more fresh fruits & veggies, lean meats & more water & I am on my way.
Are you jumping over your hump?
God bless & enjoy everyday health!
Dee