A little music for my blog...a twist of a word in the song title to suit my needs...! :-)
youtu.be/nsdj9NRzqC4
Had a TERRIFIC time 'round the Big Apple over the weekend! Stayed in Staten Island and to prepare for the big ride on Sunday we rode the ferry over to Battery Park on the southern tip of Manhattan on Saturday. The weather couldn't have been more PERFECT!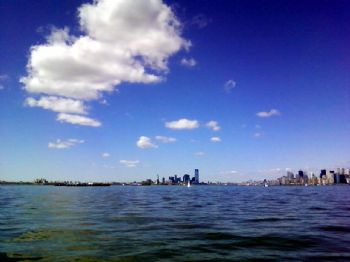 I couldn't believe the ferry ride has been a FREEBIE since 1987! It was such fun to get out on the water and while I've been to mid-town Manhattan a few times there isn't ANYTHING like cruisin' into south Manhattan on the ferry to see New York City sprawled out in all its splendor! Although I was looking forward to the bike ride on Sunday, taking it all in on Saturday on the ferry ride and walking about southern Manhattan REALLY PSYCHED me up for the ride!
The SIZE of those ferries is incredible! They must hold HUNDREDS of people on each of their three levels! I tried to get a pic to show the size of the ferry but none really could do it justice. We rode outside so that we could enjoy the view both coming and going from Manhattan. Here's an inside shot to give you an idea of the seating capacity: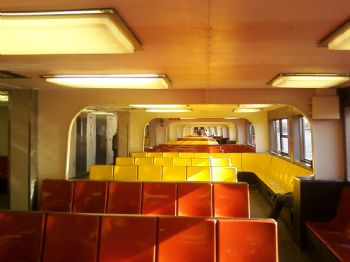 And another thing we discovered: from experience we already knew parking in Manhattan, even while staying at a hotel, runs $40-50 a day. Price of parking at the St. George terminal of the Staten Island ferry? $5.50 for the day! So if one is heading to Manhattan for some serious shopping and you're coming in from out of town? Seems to me it would make sense to park there and ferry over to Manhattan! The ferry ride is around 30 mins.
Some more pics: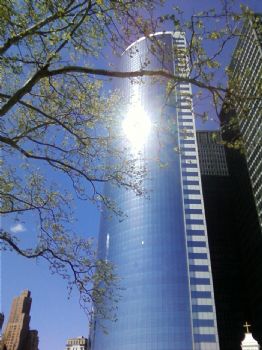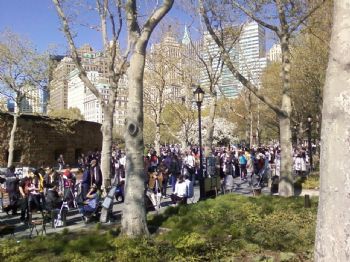 Some folks had donned some really creative Lady Liberty costumes and were hamming it up with folks who took pics with them.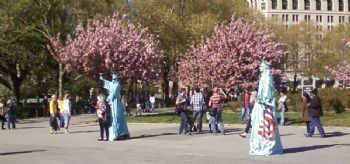 All right! On to Ride Day!
I began to get a sense of the ENORMITY of this feat, pulling 32,000 cyclists together at the same time when I arrived at the ferry again the next morning around 6:30. I had already been up since 5 getting a little breakfast and catching up with the shuttle service to take me from the hotel to the ferry. I REALLY would have preferred just riding to the ferry myself as it was only 8 miles away. But one thing I discovered by having driven this route the day before was that the road was filled with potholes, very narrow, with frequent buses that sped along in ways that belied little mercy to others on the road. Too risky for someone totally new to the route as I was.
So here I am stuck in a line with who-knows-HOW many others!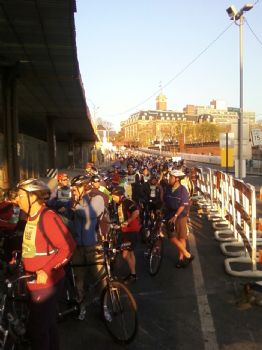 And I'm thinking: These are only the cyclists coming via the Staten Island Ferry! We've got folks already IN Manhattan and POURING into Manhattan from EVERYWHERE!
Although I realized I was going to have to be patient during the course of the day, I later found out I had to REALLY CRANK up the dial on my Patience-O-Meter...! There were moments of irritability on my part, but I quelled them by reminding myself of the phenomenal feat of organizing an event of this size!
One of the greatest challenges of the ride were the slow and crowded sections of the ride. How could I be sure not to zig when I should zag and avoid running into anyone? Soon I learned the best way, when it got slow, was to simply keep one foot on the pedal and push off the ground with the other until the press of bodies lightened up enough and the movement picked up sufficient pace to begin to pedal again. Miraculously, clumsy old me had not a single problem colliding with anyone.
The ferry ride back over to Manhattan that morning was cccccOLD!! With a bike, one has to go down into the hold of the ferry where there is simply a hole on one end of the boat and one on the other end. We had wall to iron wall bodies & bikes with the gust of the ride billowing up through. No lights other than what the openings offered. I had a 30 min. glimmer of what it must have been like for our forefathers crammed into vessels riding over the oceans under what were horrible conditions. But I struck up conversation with some, did stretches, jumped up & down and kept moving to avoid chilling TOO much.
Rode a little way up into Manhattan when everything ground to a halt. The press of bodies and bikes just totally jammed the streets of Manhattan as far as the eye could see. This was most definitely the Day of the Bike!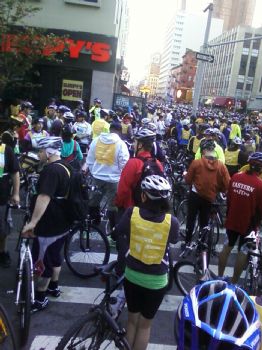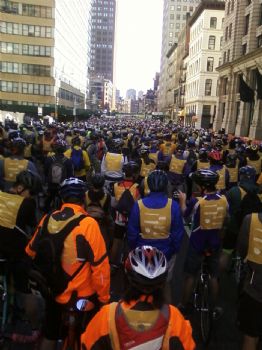 Finally around 8:30 the ride kicked off!
Here we are approaching the official starting line: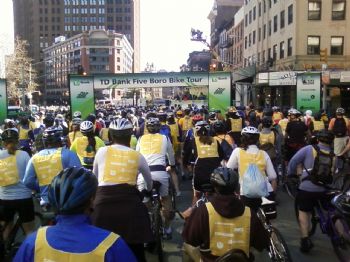 As we crossed we could hear the announcer calling out all the countries that were represented in today's ride. Amazing places such as Japan! Australia!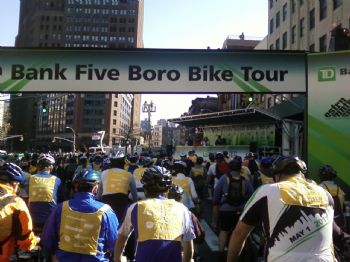 Once we got underway there was a bit of stop & go getting through Manhattan. Not because of car traffic, as roads were shut down for the event, but again that amazing press of bodies and bikes! Central Park was a little tricky too as the path was somewhat narrow for all the cyclists involved and we had to share the road with our buddies the Runners! :-)
I wasn't able to get pictures of many stretches mostly because 1) I didn't dare stop and cause a multi-bike pile up! 2) I was too busy staying out of collisions with others and 3) I was having too much of a BLAST whizzing down highways and expressways which were shut down just for us bikes!
I couldn't believe we had the FDR expressway all to ourselves! After the stop & go nervousness of Manhattan I was ready to cut loose and ripped right along...woo hoo! Throughout the more open and speedy sections of the ride I hooked up with others who were looking to challenge themselves with some speed and followed the paths that they wove in & out of the slower cyclists. While in general, just like with cars the far right was open for the faster riders, sometimes groups would block the way and it got tricky to wind my way through. But that was sorta fun too. Loved it when I found some young serious cyclists, mostly men, but sometimes there were some wicked fast gals too!, I would tail them and take advantage of the trail they would blaze. And sometimes *I* did the blazin' for others too! :-)
The day's cycling wasn't too challenging from an elevation perspective. I could tell as I never had to shift my left gears below the third and highest gear. I would just adjust on the right to suit my needs. Even going up the bridges like the Queensboro or the Verrazano Narrows I managed to get up them at the bottom of my third gear. Now HEADWIND? There was some WICKED headwind on the Brooklyn-Queens expressway heading toward the Verrazano Narrows bridge...but I liked the challenge of PUSHING myself to see what kind of speed I could maintain despite the wind.
Here's some pics on the Queensboro bridge...shut down just for us cyclists like everything else that day! I never failed to appreciate having all this pavement under our wheels throughout the day! AMAZING!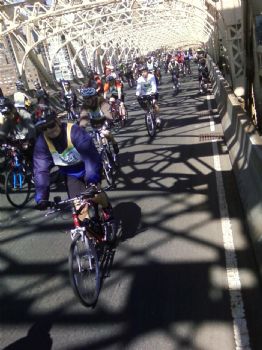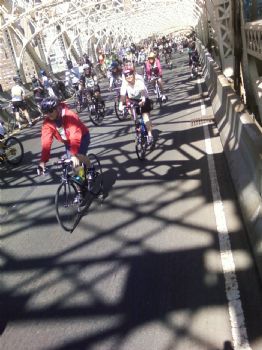 It was cool riding up through Brooklyn seeing folks of all sorts out and cheering us on. A girl held her hand out to slap cyclists hands as we went by. A traditional Hasidic Jewish fellow with the tall stovepipe hat and long beard was clapping and cheering, another was taking pictures of us.
There was some pretty cool jazz going down at one of the rest stops: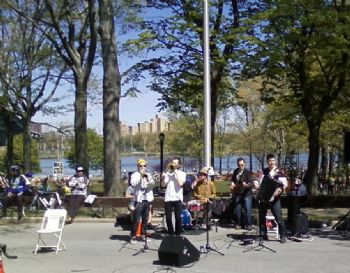 And BANANAS! Holy MOLY there were enough bananas being given away and chowed down on it's a wonder everybody didn't start scratching at their armpits and start dragging their knuckles on the ground! :-)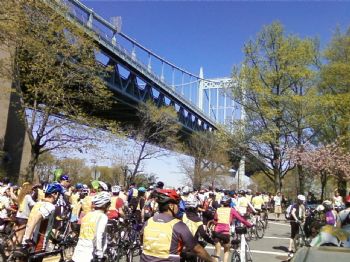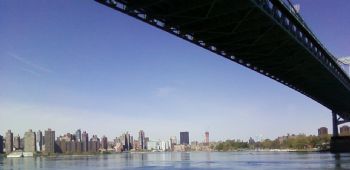 One of the most frustrating portions of the ride was along the Brooklyn - Queens expressway when EVERYTHING ground to a halt. Nobody was going NOWHERE! Wall-to-wall bodies and bikes lining the expressway. I didn't clock it, but it felt like an awfully long time. The only thing I could figure was that perhaps they were in the process of closing down and clearing out the Verrazano Narrows Bridge before we could proceed. I tried to be as patient as I could and waited it out.
Expressway Traffic Jam: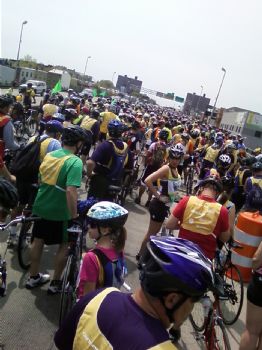 Approaching Verrazano Narrows: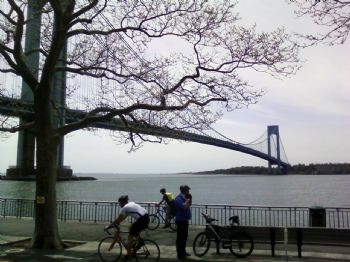 View from the top of Verrazano Narrows: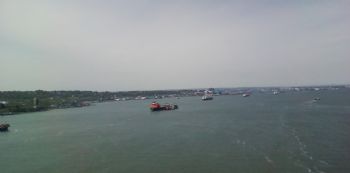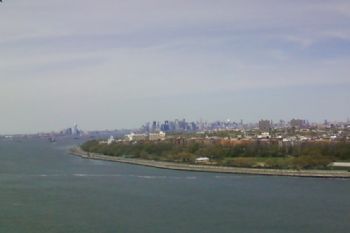 It was too dark to take pics of the riders as we were in the bottom / covered portion of the bridge.
Another bottle-neck occurred at the end of the ride as I was to meet DW at the ferry parking. ALL riders had to wait in line for the ferry, whether or not one needed to RIDE the ferry didn't matter. I just sighed and caught up with some conversation with some other cyclists. One from Maine, another from NJ who had a really cool looking Specialized, a model I didn't recognize the "Tarmac"...but it looked every bit the road bike on par with the Roubaix. A gal approached me and said "I like your bike!" Turned out she had the spitting image of my Specialized Tricross! She was from Boston.
Do I feel the ride was worthwhile? You bet! Will I return to do it again? Doubtful. Once you've done it, you've done it. On to bigger and better things! Would I recommend this ride to others? Depends on how much patience one has as this ride really puts one's patience to the test! I was able to appreciate the feat of pulling together SO many cyclists from 'round the globe that I could muster the patience...and I usually struggle with waiting in lines...! The close quarters cycling is a bit nerve-wracking also...but hey even *I* could manage without a mishap...so I'm betting most folks can.
One oversight: forgot the sunscreen! I'm toasted and glowing all over...yeouch!
Hoping everyone is off to a SPARKIN' week and that you can all cook up some wonderful schemes & dreams for yourselves to share with us here!
Don