Yay, so I made an amazingly delicious lunch of salad with a baked potato with some fat free sour cream and taco blend cheese. Utter yummyness!
here is a picture: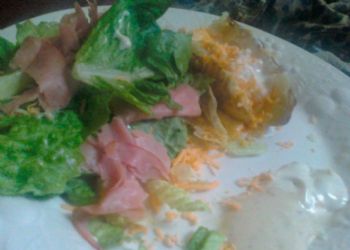 I have been both up and down about my size lately, up because i have lost 8lbs so quickly, down because a patient I work with made a rude comment about my weight yesterday. the exchange went something like this:
patient: "what do you want most in the world"
me: "to be a good person and graduate and be a good nurse?"
patient: "I dont think thats what you want most..."
me: "what?"
patient: *looks me up and down pointedly*
me: oh you mean lose weight? well I'm already on track for doing that, and I would rather have some other stuff come first. such as being a good person before being a thin one who doesn't do anything for herself or others..
patient: well...i dont think so.
me: being fat doesn't define who I am.
patient: yes it does. everyone looks at you and all they see is fat.
so that was a bit harsh to hear, even though I know she was saying it to be a bit of a snit. Oh well. I'm on my way and thats all that matters.
also, I truly do believe weight does not define a person. Looks do not define a person. You are who you want to be, and I would rather be overweight and a person i'm proud to be than something else. :)