A Grandma is a Mom with Extra Icing!
Saturday, April 30, 2011
"A Grandma is a Mom with Extra Icing!"
my sister sent me this quote this morning and it made me smile!
My grandson Quinn Morgan R. arrived Thursday night at 9:35pm. He weighed 7lbs. exactly and was 19 inches long. He is just absolutely the sweetest and cutest little thing. I had forgotten how TINY newborns are! He and his mom are doing great.
She arrived at the hospital and they told her she was at 10cm already so we arrived just soon enough for 4 pushes and to see him being born. I got to go into the room along with her mom and my son to see the birth. It was so amazing and AWESOME to be able to watch my tiny grandson come into this world! My Son and DIL gave me the BEST gift EVER! He is just perfect in every way!
My son did an excellent job coaching although he was reluctant when they first found out they were expecting, he didn't even want to even go in with her. LOL
There is NOTHING in the world like your son giving you a BIG HUG and both of you standing, crying and watching his son being cleaned up and weighed! Kodak moment for sure!!! :)
I have been busy getting all the odds and ends done at their house so that they can come home tonight. I finally got to go shopping to buy BOY clothes now that we finally know what it is. LOL We have all kinds of company coming tomorrow so it will be a busy day! Fun stuff.
I really think I am going to enjoy this "grandmother" stuff!!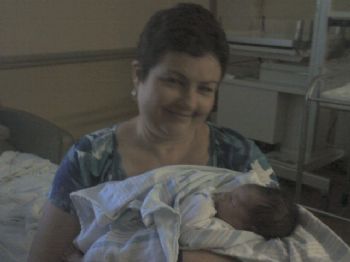 Proud Grandma!