Kale Chip Adventure (pics)
Friday, April 22, 2011
I've been wanting to try making the kale chips for a while and I finally did so today.
They're really easy. Cut or pull the leafy part off the thick stem and arrange on a cookie sheet or a big piece of foil. Spray with a little canola or olive oil and then sprinkle with a little salt or seasoning of your choice- I used Spike seasoning on mine because it's low sodium. Bake at around 325 degrees- but don't go to far away because they cook really quick.
And the results?...They were really good! A little on the delicate side so not to easy to dip in my home made fat free dip.
On a scale from 1-10 I'd say they're a 7.5
Before I put them in the oven: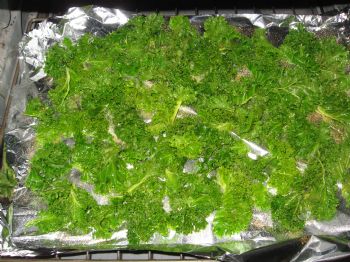 Finished: