Today went fairly well. I wish we had a fairy emoticon because I would definitely use it every time I said "Fairly"...yes I know they are not the same word, but who doesn't love fairies?
EDIT: HEY! We DO have a Fairy Emoticon!!

Anywho. I had an eye exam this morning and had hoped to get to the gym before my evening class, but my eye exam took way longer to get through...mostly because I had to pick out new glasses - and I tried on probably 75 pairs.
I'll post a pic of my new glasses when I get them. I've been needing new ones for about a year. I went a little BOLD with the new ones.
So Day #3 of vegetarian -




This morning I had my usual. Oatmeal with berries and a tablespoon of ground flaxseed.
I eat oatmeal pretty much everyday. Out of 30 days I think I eat it 25 days. Once in a while I have toast or we go out for breakfast and I gorge on hashbrowns, bacon, eggs, etc.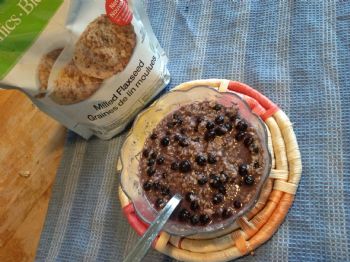 Oatmeal keeps me full and I always put at least a serving of fruit in it.
For lunch I needed something quick because I didn't have time to cook between my eye exam and having to go to work. So I quickly threw together Tabouli salad. I did manage to get some semi-boiled (is par-boiled the word here) quinoa into the salad instead of using bulghur wheat. I didn't cook the quinoa until the little stems came out. I just cooked it until the edges became transparent.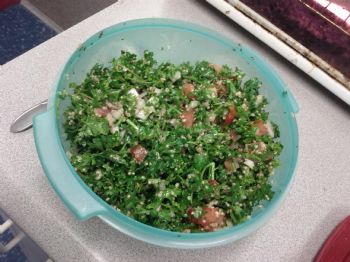 I paired it with a whole wheat tortilla that I toasted.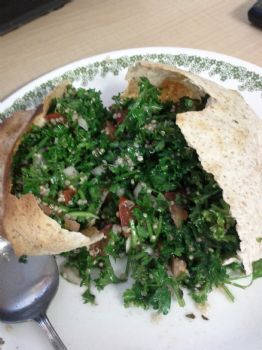 My supper is the same as last night. I had enough in the container yesterday to do me two meals.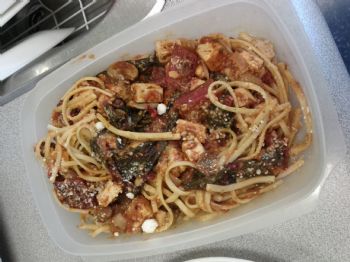 Here are my snacks for today. Banana, cheese string, yogurt drink and baby carrots. Again, I'm not sure if I'll be eating the quaker cafe square. I'm not sure if I like them. I am not getting the recommended amount of protein for today. I'm out by about 8mg (is it mg?). So if I'm feeling peckish when I get home from work I'm going to have an apple with some 1% cottage cheese.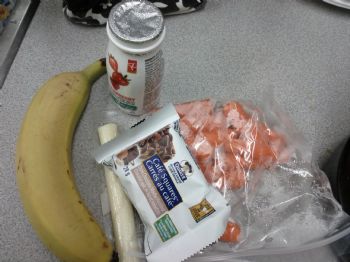 I also had a coffee with 1 cream and 1 sugar at around lunch time.
So all in all, a pretty good day. I wish I had a bit more veg going on there. But. I guess the tabouli makes up for some of it. Parsley, onions, tomatoes.
That's it. Have a good one.