I was so very happy Mom and I could get down to the weir to see the ice break up and go over the weir. We had been seeing lots of broken pieces and chafe coming down river already, so we knew it was happening and got down there fast.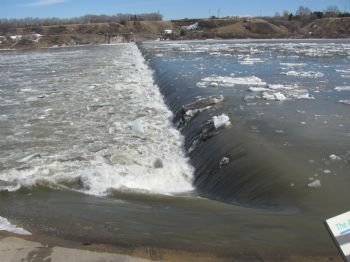 There was lots of debris churning around in the backwash: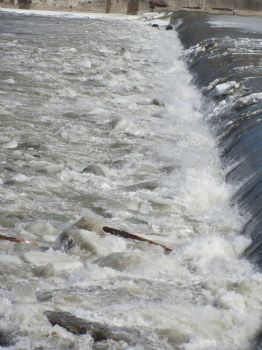 Mom liked this one with a piggyback going over: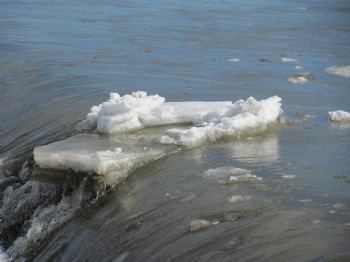 These two large pieces, on dark were neat:
I was happy the telephoto was working well on my little camera to capture this: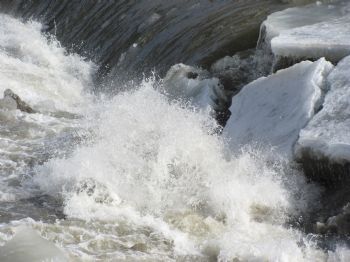 This tree branch was churned up as a flow was going over:
It would come in bunches and with so much already churning around in the backwash, it was really noisy: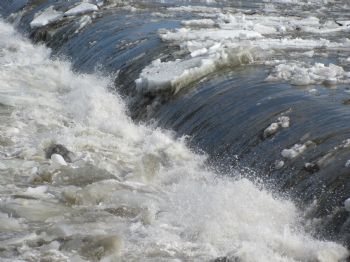 Big pieces would break off before going over: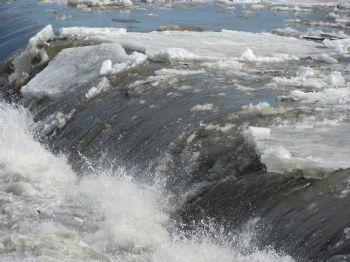 A buoy line must have been broken as there were four barrels and some white balls roiling around. The barrels broke free eventually and were floating down stream: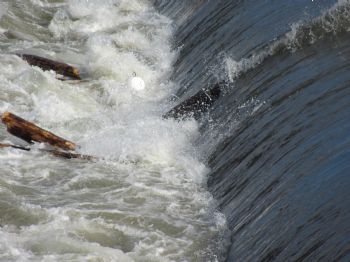 Today, it was supposed to go up to 15 C (59), but as of noon hour, Mom said it was still cold and windy. With the cloud blocking the warmth of the sun, doubt it will go up much more. We hope to go for a walk later after getting some groceries.
I saw a beaver across the river this morning in the off leash dog area, but even with binoculars, it was hard to make out, but knew when the round black blob slid into the water that was what is was.
One thing that has been really disturbing us was all the dogs coming down to the ice edge, trying to drink and then falling in, but the ice was too thick for them to crawl back up. Fortunately, all the owners were able to lay on the ice and pull them up. One large retriever was struggling for quite some time before the owner at the top of the hill came down to rescue it.. There are these large ice berms all over on the north facing side of the river: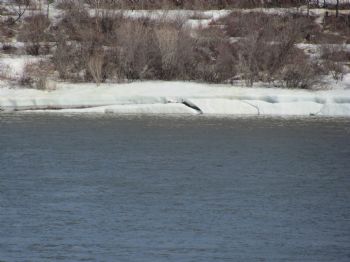 Hope everyone has a great day!
Hugs,
Linda