SO Discouraged...HELP!?
?
Monday, April 11, 2011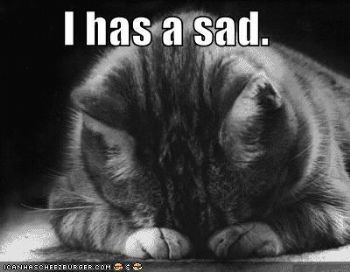 This picture says it all. I have been really working hard for about 4 weeks now and have hardly lost a thing! I have a doctors appt. coming up this week and I was so excited to share with her how I have been doing. But I was hoping for more to show. I don't know what I am doing wrong. I am staying in my calorie/fat/carb ranges. I am slow at exercising, but I am doing more than I was (about 15 minutes on the treadmill a few times a week). This week has been crazy - eating at fast food places with no other options - but I have made good choices. Didn't enjoy them..but I made them and I was so proud of myself. Until today when I stepped on the scale. I guess I should be thankful for the little things. I have lost about 4 pounds or so. It is also the week before my period, so I may be a bit bloated. I DO have a thyroid problem that the docs are working on getting regulated. I know that slows down weight loss -but my sister is doing great and she has a thyroid problem too! I am not discouraged to the point of giving up - I know I need to do this for my health. I am just bummed about it. Sad.. disheartened. It feels like you try and try and get no where. I LIKE to see results. I am doing well in my blood sugar area..so I know that is a big deal. I would just like to see some other results. This is too much work to not see it. I am wondering if it is the fact that this is like the hundredth time I have started a program of being healthy and my body is like..whoa.. really? Again?? Let's see if its for real. I usually lose a lot the first week or so, but this time.. its like I have swallowed a sloth and he is holding onto my weight!!! Can someone give me some words to keep me focused??? I would really appreciate it!!