Wednesday, April 06, 2011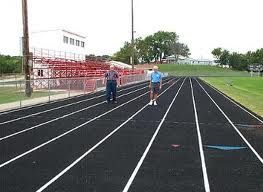 Today I hit the track. I wasn't prepared AT ALL! I had to take my kids to Boy and Girl Scouts Meeting at my church. They are in there for 1.5 hours. I had on flat shoes and a skirt and a long all-weather coat. I did not have my sneakers. I didn't even have socks on.
I decided to go down to the local community college around the corner and just walk the track. (I could have walked anywhere; but I like to walk the track because I'll know just how far I went.) That was an EXCELLENT idea because I hadn't exercised yet today and I would have had to exercise late tonight if I hadn't. It wasn't the most comfortable walk with the shoes I had on. And I probably looked CRAZY to just about everyout out there. BUT....I'm soooo glad I walked and made the best of my time!
Day 18 of 40/40 Challenge.... DONE!!!