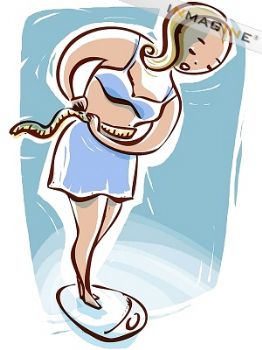 So here I am, standing on the scales - ramping up excitement to see another measly half pound weight loss. After all, I've born working out and burning calories 5 days a week. I measure everything I eat - right down the teaspoon. My daughter asked me this morning why I measured my coffee creamer. I showed her the difference when she poured and I measured. Her cup was almost 200 calories from the creamer. That made sense to her. I have been sticking in my calorie range every day except one - and that wasn't a total blowout.
So... why shouldn't I expect a small loss? I've been working hard. Every week, since I started this path to lose extra weight that is causing my Ankylosing Spondylisis to hurt my back and hips has been a major struggle. I started in January. The first few weeks, I didn't budge an ounce or a centimeter. Since then, I have been happy with the .3 or .4 pound weight loss. I had to be - it wasn't much, but it was better than nothing. This week, I GAINED weight? I don't even know where to begin.
I haven't lost any inches - I already checked everything. I am eating enough - I've done the math on that
http://www.sparkpeople.com/m
ypage_public_journal_indiv
idual.asp?blog_id=4066542
Since January, I've only managed to lose 4.2 pounds! I'm working my butt off and losing less than 1/2 a pound a week on most weeks and this week?? I gain 1.5 pounds?
I eat a varied diet. I'm a vegetarian, so I get enough fiber. I also make sure to eat adequate protein. I get enough calcium and vitamin D. I avoid white carbs. My diet is so healthy, my doctor would be envious.
I vary my workout routines. I work out with the Kinect and play different games. I wear a Polar F5 Heartrate monitor to know how many calories I am burning. I also incorporate strength training.
I drink LOTS of water. It's almost the only thing I drink anymore.
I'm so discouraged I don't even want to enter it into the tracker. I don't want to throw in the towel on this. I WANT to lose weight. I'm working hard. I am frustrated and don't understand what I am doing wrong. I just need a reason to keep on putting on the gear and sweating through another workout or to measure another meal or track another bite. The effort hardly seems worth the results.