Pictures from my garden
Wednesday, March 30, 2011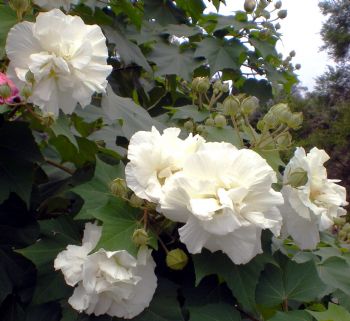 Our beautiful Rose of Sharon has come into bloom again. It is a magnificent flower, and a very free growing bush as we have to cut it down every winter to about 2ft high in order to control it, and at present it is about 9ft high and the same across!!
You have the same plant in USA - probably more in the southern areas!!
Hibiscus mutabilis, also known as the Confederate rose or the cotton rosemallow, however here in Queensland it is called eRose of Sharon"
Confederate roses tend to be shrubby or treelike, Flowers can be double or single and are 4 to 6 inches in diameter; they open white or pink, and change to deep pink by evening. Bloom season usually lasts from summer through fall though ours tends to bloom when it feels like it!!. Propagation by cuttings root easiest in early spring, but cuttings can be taken at almost any time. The Confederate rose can reach heights of 15 to 18 feet with a woody trunk; however, a much bushier, 5 or 6 feet plant is more typical and provides more flowering. These plants have a very fast growth rate. The Confederate rose was at one time very common in the area of the Confederate States of America, which is how its common name was derived. It grows well in full sun or partial shade, and prefers rich, well-drained soil
In ancient China, the flowers are believed to resemble beautiful ladies.A Chinese proverb runs: "Cotton rosemallow out of the Water"(o…•‡—u), meaning a young lady of appreciated beauty.Certain number of historical painting depicting beautiful young women are also titled as such by their respective painters.