It was GREAT!!! I pushed myself and did it!

Sunday afternoon, I was sicker than a dog! I came home from shopping, planned on putting groceries away and hitting the pavement. Uh.. didn't get to hit the pavement. Had severe abdominal cramping, hot flashes, cold flashes... so I crawled into bed for 3 HOURS! THREE!! Could not believe I slept my Sunday afternoon away!
Monday morning I got up early to run but was having issues regulating my body temp and it was 18 degrees and didn't think it was a good idea.
This morning.. had no problems... well, except running a tad late. Was supposed to do W6D3 (25 minute straight run) and decided to hit the hills instead w/ my standard 5 walk 8 run 1 walk 8 run 5 walk so as not to be late to work. When I got close to the end of the 8, I thought to myself, why not run the entire hills? no walking??
SO I DID!

Ran for 20 minutes straight...so proud of myself!
distance 2.2 miles
time 27 minutes (20 minutes straight running)
average pace 12.33 (woo hoo)
course HILLS!
temp 19 degrees and no wind
Spinning.. hmm. Went to my third class last night and while I am getting better at being able to stand and peddle, I can barely do it for more than 10 seconds or so. That got me to thinking again how much I can just do this myself w/ my bike and not have to leave early and rush to get to the class. Thinking I am working too much on my lower area when I want more of an over all?? I believe I'll call the Y and see if I can switch the next 2 classes to Zumba or something else that is easier for me to get to after work or on Sunday.
My poor old guy has a huge LUMP on his chin! Going to the vet tonight to see if it might be an abscess from a tooth. Kinda doubt it thought as it is hard as a rock and he doesn't seem to mind me pushing on it. My vet friend saw it and said she did not like the looks of it. He's 12 1/2... way past average life span for a Rottweiler.
Mom, there's nuffin wrong...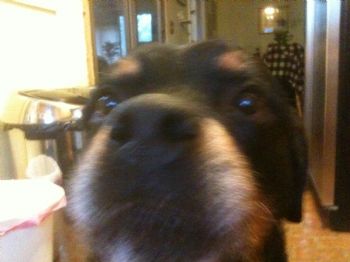 Okay here, look at my chin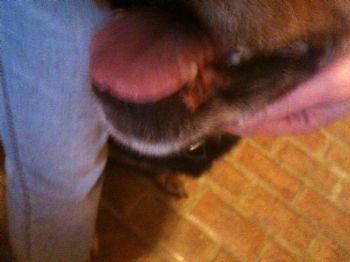 It doesn't bother me, hunest