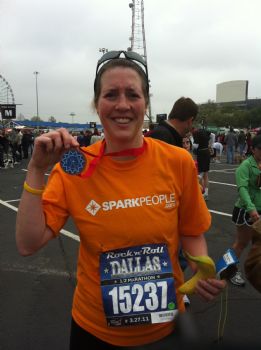 I set a goal late last fall to do a half marathon. I registered for the event and then broadcast it to everyone so I couldn't back out. I got some advice, read some stuff, and started my training. Up until that point the farthest I had run was a 5k.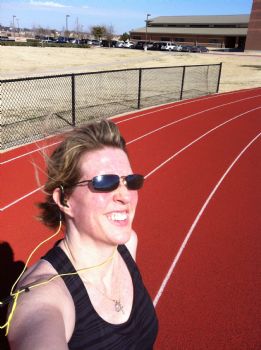 This is me on one of the happy, sunny, training days that I had on the track. I put in quite a few miles on that track.
So a few things about the race, since quite a few friends are anxious to hear the details. Here are my stats:
Overall: 8828 out of 10969 • Division: 424 out of 620 • Gender: 5119 out of 6810
Pace 5 Km 10 Km 10 Mi ChipTime
12:33 34:22 1:13:45 2:03:09 02:44:2
7
So much for practiced pace...I beat my PR in the 5k right off the bat by 50 seconds. Guess I have no excuse next time I run a 5k huh? I've never been timed in a 10k or a 10 miler officially. I wanted to beat 3 hours on the event, and I did that.
I basically ran the first 5k, then switched to my 3 min run/1 min walk system. At about mile 9 I started skipping some of the 1 minute walk segments. At mile 12 I basically ran most of the way to the finish line. There were two times that my body just stopped to a walk without me planning to do that. I was in quite a bit of pain at the end. Running that far on the street is hard for my knees, hips, and back. All of my long distance training had been on a rubberized track.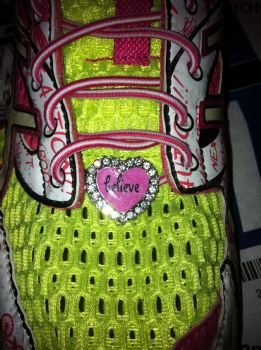 Someone stopped me during the race to ask where I got my shoes. These Asics turn heads everywhere I go. Love them, and the new "believe" charm I bought for the race at the Expo event. (www.beecausecharms.com).
A couple of other things I would recommend after using them: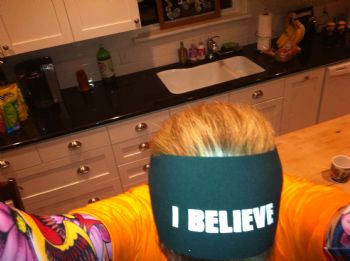 I bought a (www.bondiband.com) headband for the race also at the expo. The one I chose said I believe. That thing did not move and inch, kept my hair and sweat out of my face, and was awesome.
I loved my spibelt. It held the two snacks, my tylenol, and my chapstick well. AFter the snacks were gone, I was able to put my running sleeves in there. I think I took the tylenol at mile 7.
I broke down at mile 9 and took one of the GU packets they were handing out. I tried the vanilla bean flavor and it was alright. I was just so hungry by that point and apparently what I ate before hand, and the couple of snacks I had weren't enough. My runkeeper estimated my calorie burn to be just under 1,700 calories. I understood the saying I run to eat.
Things that made me laugh...the guy cheering people on with the sign that said "run like you stole sumthin", the lady with the shirt that said "Dear God please let there be someone behind me to read this". Things that touched my heart: the guy starting in my group who was paralyzed and in a wheelchair who was going with his friend who ran next to him, the support of complete strangers on the side of the streets cheering us all on, and the parents who made a banner for their daughter who was also running her first half. They trekked through the whole event and showed up in about four different places waving that banner.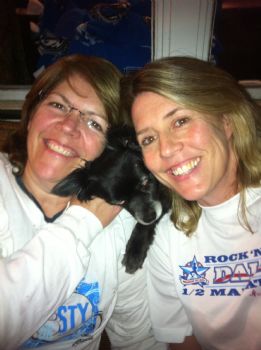 I'm also thankful to my running buddy and BFF - even though she couldn't run this one with me, she braved the early morning hours, and the crowd to take me to the race. She waited for about an hour and took pictures at the start and when my group finally got the go ahead to cross the start line. I'll have to have one more blog about this when I get her pictures.
One thing that keep me going strong was the fact that I was wearing a SparkPeople shirt. I'm so grateful for my experience on SP and wanted to be a good representation of what you can accomplish with their help.
At about mile 10 when I knew I was going to finish I burst our in tears. I also cried when I came around the corner to finish and saw my daughter and husband cheering me on at the sidelines. I tried not to cry when my official finisher picture was taken, and then I just let loose and cried some when my daughter threw her arms around me and told me how proud she was. Then they both helped me all the way to the car.
In the end I like this quote from Nelson Mandela - "I learned that courage was not the absence of fear, but the triumph over it".
My next goal? A duathlon this summer (2 mile run/9.3 mile bike/ 2 mile run) The day before the half we picked up our bikes from their winter rehab:
What's your stretch goal this year?