hi all
I wanted to wait on the photos, but it will take 2-4 business days for them to post!
for JASR participants it's by PBC Photography ;p
As you all know with was my very first 1/2 marathon.
I didn't come in well prepared ;(
I thought I wasn't going to run it....then I found I was able to only a wk bef!
I missed out on all the TEAM forum news about meets and what not! SORRY!
DATE: MARCH 26, 2011
VENUE: Just a Short Run 5k,8mile, 1/2 marathon, 30k
TEMP: 19 degrees!!!!!
Time: 8:30
I just move here, so don't know the area too well!
I know this park, I did my 2nd 5k here at 28 mins in Nov'10

Before Sept '10 I could NOT even walk around the whole POND (5 miles)
I was in pain and whiny hahahaha
This is the route: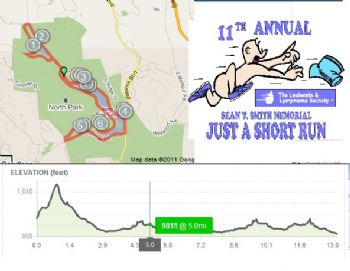 KUDOS to all the 5k-ers who ran it! that is the HIGHEST elevation ;p
5k is 1 &2 loop
8 miles is 5k plus the pond loop!
1/2 miles is 5k plus the pond loop 2x!
30k only difference is they have a different START POINT
COURSE and FINISH LINE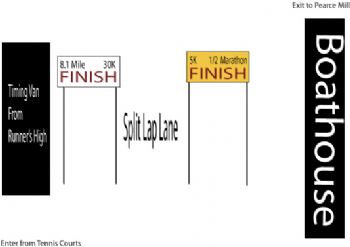 So cool!
we have 2 color bibs! that is your finish line banner ;p
middle lane is for continuing ;p
IT was soo well organized
Our chip is disposable ;p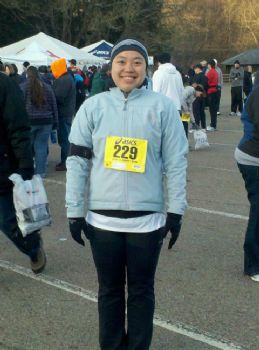 we don't live far from this park!
Hubby said it's too cold to wait, so he drove me in on time to get the packet!
4 layers! so glad I wore it! at START
My PHONE died, so no pacer, no music... hence the slower run ;p
My ANKLE is also weird, I wanted to be more focus so I don't HURT myself ;p
I got ANOTHER 1/2 marathon coming up in May, Pittsburgh Marathon

First 5k! Split 34:17 (www.runhigh.com)
what a SHOCKER! I never went that way!
ALL up hill first mile! 34 min for the 5k ;p
I did not know this...

HOT!!!!!!!
took off BLUE jacket wrapped around waist!
AND unpinned and pinned number to black hoodie!
try that running non-stop ;p
HEAVY (never ran with soo much clothes on)

8 miles! Split 56:53 (5M) 1:31:10 total time
It was great!
Choked on my first Drink STAND LOL need to work on that!
Mostly thinking! WOW I could not even walk this 7 month ago!!!!!
And reminding myself! REMEMBER all this...I have to do it AGAIN!
HOTTER!!!!
Took off BLACK hoodie, wrapped around, unpinned and pinned number
AND so glad I threw the whole HEAVY LOAD at the finish line LAMPPOST!
SOO MUCH lighter for last 5M

13.1 miles! Split 1:00:03 CHIP TIME 2:31:12
ALL was AWESOME until the last mile!!! 13th mile!
My legs were quivering!
I remember thinking 1/2 is the MOST I will ever run!
it was ENJOYABLE until now! this is feeling like torture!
I will NEVER run a MARATHON! lol don't hold me on this!
BUT I saw the TENNIS COURTS (START LINE)!
and the BOATHOUSE or FINISH LINE is less than .5 miles away!
I continue my pace til the FINISH LINE WAS AT SIGHT!
I SPRINT SPRINT SPRINT!!!!
PASSED 3 runners and got in at 2:31!!!!
WHY? my GOAL was 2:30....I saw 2:30 and it CHANGED to 2:31!!!!
I WILL NOT HAVE IT!!!!!
lol
They Handed out the finishing medal right at the FINISH ;p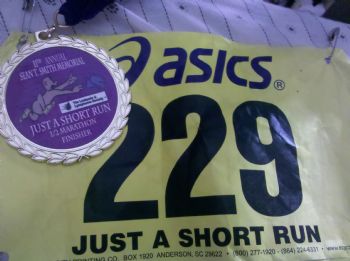 I saw the sparkers all around, but I was TOO shy to say hi!
I figure I will see them at FINISH!
I couldn't talk anyways.... so grabbed my jacket mess by the finish!
I saw many sparker, but since I was running real slow, I only knew they were SPARKERS from the badges on their backs!
it was too late to catch up ;( MANY sparkers ran past me ;)
and each time I see the SPARK badge I got re-news motivation!
At the finish I grabbed a banana and heard a group at the finish line!
I finished my banana and tried to get my heart rate down and walked around.
Had to grab a second banana ;p
Heard the SPARK group cheer for a sparker that just crossed the finish line ;p
See told you I am real shy in real life! hahahaha
I had to text my hubby! and found he was already parked and walking over.
after giving him direction.
I look up the sparkers were gone ;(
BUT HUBBY made my day ;p
He thought he would meet me at finish! but I was already DONE!
he asked my time! 2:30 ish, don't know for sure of my chip time
he said: It's AMAZING how far you have come! you have only been running for 6 months. It was only Sept'1o you ran your first 5k!
YES!! it was only 6 months ;p and my first 5k was 44 mins! 14 min/mile!
on Mar'11 I ran a 1/2 non-stop in 11:45 min/mile!!!
OFFICIAL result
RACE TIME 2:31:17
CHIP TIME 2:31:12
Rank for HM: 396/452
Age group: 36/42
not bad for first timer ;p