Thursday, March 24, 2011
I've got a busy weekend so I need this foot to get healed already. I just got some cool jeans and I wanna be able to boogie Saturday night on my favorite dance floor.
I'm wearing the brace when I have to go anywhere, and I have my foot on ice otherwise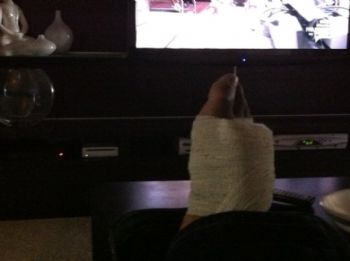 There it is, wrapped up with a cold compress (Watching Top Chef All-Stars)
I'm being good... but it's soooooo boring! I miss my walking. Even though I shouldn't cut back on my intake, I find it hard to eat when I know I'm not going to burn any additional calories in the day. I am, however, getting a lot of curls done with the weights while I sit on my butt. Yay! I'm gonna be beefcake.
I discovered that I wear a size 18-22 in women's jeans. This came up because I was telling Heather about my womanly hips. As I get leaner it becomes apparent that my mother gave me yet another strong feminine trait (I unfairly blame my mom for stuff like that). Anyway, she thought I should try women's jeans, since my hips are kinda wide even though my waist is shrinking... what the heck, I'll give it a go. Luckily, she has pants from every size she's been, so I can test the fit. If only she were taller.
I really want to hike Cowles Mountain on Saturday, so I am pushing for some super healing tonight. Mind over matter! 2 days out of commission is more then enough. Looks like I am the owner of a shiny new Stress Fracture (http://orthoinfo.aaos.org/top
ic.cfm?topic=a00379) the symptoms match exactly to what's going on and how the injury occurred. Dang.
Oh well, enough whining. I hope everyone is having a great week and the calories are being burned away!