Tasty Tip #5 ~ Doin the Mango Tango!
Sunday, March 20, 2011
Heaven is an Ataulfo Mango.
These canary colored nuggets will make your tongue sing.. they are soft and sweet with none of the nastiness of fiber strands or mealiness that can be found in other mango types on the market.
Delicious on their own, pureed with with yogurt and a shot of lemon to make a mango lassi, or combined in a salsa for fish... the ways of ataulfo mango are many!
For the uninitiated, mangos have a rather large, flat seed in the center, that unlike an avocado seed, does NOT give up its position within the fruit lightly. It must be sliced out.
Use a sharp knife to slice the fruit down its midline, as close to the seed as possible. Then make several long cuts down the length of the half that does not hold the seed. The flesh is easily removed with a spoon.
For the second side, use the tip of your knife to poke around the backside of the seed, loosening it. Then stand your mango on its heavier end (where it had been attached to the tree), and run your knife down behind the seed. Remove the flesh by making same longitudinal cuts with the knife, and use the spoon to scoop it out.
Here's a photo of a whole basket of these beauties: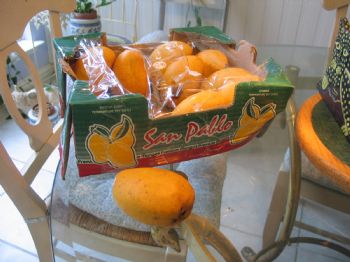 Enjoy!
: )
Mzzchief