I like to write about stuff I learn (as if you didn't know). I don't even write a tenth of what I've read; and I don't remember the other eight-tenths - lol. I share my blog with my family for the most part, so when I get to see them, they have an idea why I eat so "freaky" (I tell them to look in the mirror).

Being around me now, though, they, and I notice with friends, too, are self-conscious about their own choices around me. I don't want to be the person you're afraid to eat around - aack! How un-fun is THAT?!


OTOH, I have friends with ADD kids and other obvious-to-me food allergy symptoms (runny noses, bright red ears, black eyes, fatigue, pimples, bed-wetting), who bring it up, but ultimately don't want to change. This is SO hard for me, and it's something I have to learn to let go. It's up and down, and I try, really. I think it's my ego, because I so want to make a difference SOMEWHERE. I need to find an outlet, LOL.

For years before my diagnosis I slowly stopped being as social as I once was when I was healthier -scratch that, make that YOUNGER and healthier. When you're tired/sore you slowly chink away the "normal" life and, before you know it, the changes change YOU. You're okay being alone as it's less complicated, takes less energy. I never liked getting worked up in personal drama anyway (as I have a history of such w/family drama). I either never went through their BS, or have, and need to move on because it sucks up what little energy I have. Don't get me wrong, I care about my friends and family, sometimes too much. I'm likely co-dependent and that's likely because I felt like a little adult as a kid, having to grow up quickly. I'm a problem-solver-type. Not everyone wants you to solve their problem, they want you to listen. But I listen, I secretly problem-solve and it drains me!

I sure missed feeling connected with the universe via friendships. Because I moved a lot as a kid and then again as an adult, I learned to keep some distance, too. I've made some wonderful friends through my moves, but it's never the same of course. I miss having a girlfriend to do stuff with at the drop of a hat. I miss running over to her house to help her clean or rearrange something, make something, chat over tea and crumpets so-to-speak: Gab. I miss the time spent w/hobbies (I know: SP's my hobby now!). I took the long walk on the Green Mile to Upstairs (wooo-oooo - Dd does NOT like me in her universe, and I do not like her universe, so I usually oblige). I went up to visit the spare room and ignored her universe. I dusted off my old rubber stamps and papers, and it felt good to be there. I associate it w/stress relief. I felt some creative juices stirring up which brought back good memories w/lots of gabbing women and drama.

I'd recently moved to my current home and was, BAM, dx w/celiac. No family, no friends and though more encouraging than a cancer dx, I had the energy of someone on chemo. You know who became my friends? SparkPEOPLE! OMG, to find people who understood the transition of going gluten-free was truly comforting. I went to
celiac.com
and thought they were way over my head ... all those signature lines about their food allergies and diagnoses - ack! I could not relate (I was pretty fuzzy-headed back then, too). Now I get them, and I are one of those people. LOL.


Dd used to tell me to get off the computer, I was becoming an "obese shut-in" ...we still laugh that I am. But it's not funny any more. While the online world is at my fingertips whenever I need a virtual hug or encouragement, I need more connection with the outside world. I feel as though my life's been on hold for 3+ years since DH left for work in another state. The emotional ups and downs of retirement job hunting is getting old while we wait to move on. Most of my focus during this time has been on getting well. I think the stress of moving again would have really stunted my healing. What a luxury to do this, I know. I am so grateful!


I need to but am scared to go back to work. Scared of the energy output - can I handle 8+ hrs? I know people w/fibro work, but many are on drugs to help them cope, and at what health expense? Can I even find a job?! My resume is OLD! I'm outta date, but I can type :). I'm reliable :). So many thoughts on that front.

**********
The "nose skin cancer" mystery has been solved (Blue, this ia link to that blog - lol
bit.ly/dXYXGe
): The PEELING skin from an underactive thyroid! It was a "tell" that my thyroid was going under, but I didn't realize it at the time. As often as I've gone through dips in thyroid function, you'd think I recognize it (PEELING skin is a new symptom, dry skin is not).

**********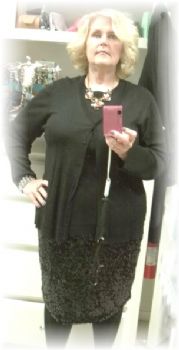 A friend invited me to the annual Dillards dinner. I ate a very good sirloin, and had to share the steamed asparagus and carrots. LOL. They served family style which was scarey cause people were passing their crumbly dry rolls to each other over my plate so I had to speak up to those sitting on either side about cross-contamination of gluten falling onto my dry salad (cause apparently the lemon wedge & olive oil I ordered was too much to ask. No special orders says the banquet nazi - LOL - there I am being freaky again). Anyway, I had to pick out only three spears of each veg when I wanted to take the whole plate (I needed the calories). LOL. I asked for asparagus seconds and took 1/2 the plate - people were staring at me. I thought to myself, "Go ahead. Eat your scalloped potatoes, cheesy rice pilaf, chocolate cake or cheesecake, wine or mixed drink/soda calories/nutrition..." and leave me with my asparagus calories/nutrition. I'm great with that.

Another guest worked for a steakhouse restaurant, and ordered a special vegetarian meal (I was the only one in 200 guests with a gluten-free meal/steak. I thought to myself knowing at LEAST 1 in 100 have CD - let alone stats for gluten sensitivity, esp after age 50 -, that there was an undiagnosed person amongst us, and I wanted to find him/her! LOL). Anyway, his plate was plum pitiful: a few zuchinni topped with tomato, maybe some peppers and melted cheese or sauce? He needed more calories for sure. Wait. Oh good. He had some cake and shared his wife's cheesecake. :P (Not that I was keeping tabs of HIS calories, right? ar ar, but I am so curious - and Tam, I did not pry!!)

I lost a pound that night. Thanks Dillards (they owed me). LOL. Oh, and I wore a sparkly black skirt and felt feminine. It was fun to get out and get dressed up.

**********
Went to the cardiologist for a recheck on the ticker. We're monitoring how the new thyroid meds work, and I'll go back in a couple of months. I'll get cholesterol checked then. Thyroid so affects cholesterol. I asked for a VAP to see if I'm making some good, fluffy LDL.

**********
DH started more Paleo eating, or so he says, as I'm not there. He got his cholesterol levels back and they're worse than he'd like or worse than last time. TC: 215, HDL 42 down from 50 something, LDL 142? Can't remember. He was devastated and ticked! I asked him what was he eating, as he's notorious for easily sliding off plan for small reasons (according to me). All those "Just this once" add up. Well, for one thing, I bet he's in transition mode in his mind. Probably the week or two before his blood draw he did VERY well/was conscientious and therefore thought he deserved a better cholesterol reward. I've been "kinda, mostly" paleo or transitioning outta dairy for about four years, so I feel his pain. You always think your changes should have significant or more impact than they do, and pronto! Change IS hard, and there's a learning curve. I told him to not panic and continue changing it up for the better.











Doctors always tell him to exercise, which is hysterical cause I've never known him not to. He rolls his eyes at the doc. He probably exercises too much, which raises cortisol. He already has a stressful job ... Anyway, I say, let's revisit diet then, okay? ;0) He has been eating Premier bars with soy, whey, peanuts (not paleo) (
bit.ly/guA8He
). I say, what about jerky, an apple, a banana? He's not a big fruit eater. He's going to try to do "different", so we'll see.

honey! You're amazing! *love*
**********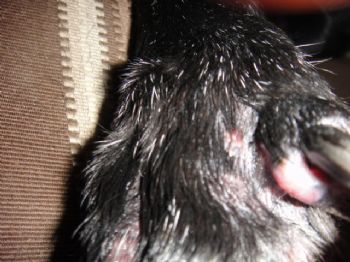 My Jenny's paw has an infection from unknown origin. I've been weeks going back and forth to the vet for different treatments including antibiotics, wraps, silver. It's very concerning as he's mentioned taking off her toe. :( It seems to be spreading, and I'm hoping to get it cultured next visit.
Musti's arthritis seems to be worsening as he lays down on the way to the water bowl. For both of them I have slowed down and shortened our walks. He needs to move, too, though. His liver is fine, so I have conceded to some new fangled arthritis medication. At his age, 12, it's about palliative care. I pick it up next week when I take in Jen again.

woof.
**********

I finally hit the 80 lbs lost mark yesterday!
It seems I do well juicing w/protein powders a few of my meals now and then (like when groceries get too low and you want to see how long you can purge the fridge/pantry). I prefer real protein, but ... this must be easier to digest, as it certainly is not caloric. I had a few weeks of "intense for me" exercise in that I joggled a coupla 5Ks "in a row" (HUGE) and then 1.5 miles, etc. My fibro legs were pretty good actually! I do not have the striated muscle pain at all, only a 'slight' what I call wet balloon tight feeling - so best ever feeling esp after joggling! YaY! I tried explaining my fibro legs to the cardiologist; about how I had pain so bad my CK (creatinine kinase) was raised. He said "everyone's" goes high. I don't believe this. I'll run one day, and it'll be without pain! I will show him in the end.

I did not lose weight at all from joggling, only seemed to fatigue me in the long run, so I've learned to keep it on the down-low as it were. I don't want to spazz out and overly fatigue my bad self. :)
I bought a groupon for a cross-fit gym (have I mentioned that before?). The coupon doesn't expire til June or July. I don't think I'm ready, so I'm thinking of finding a Curves to ease my muscles into some sort of different action. Where's THAT groupon when I need it?! lol I'll ask if they have complimentary sessions to see how I do. I really need to work on my muscle strength, being more active - and I'll be around women so I can gab :).



Much love to those who stop by to share this journey. That's all she wrote!