Friday, March 18, 2011
Sump pump number 4 is not working. Went to another town and purchased another. It will kick in in addition to the other 3 when the water is about 8" deep in the basement. It is already 3" deep.
I try to believe the best about people, but, just once, when my 60 something widowed neighbor or I are outside fighting with sump hoses, I wish some looky loo would stop and ask if they could help! It's not that I can't handle it, but some moral support would be so appreciated.
I have let my children (who would come in a minute, if I asked them), know that we need a family conference to decide what I will be doing about living arrangements in the future. I cannot do this again!
It breaks my heart to think about leaving the home I have lived in and loved/hated for 20 some years. When I bought the 106 year old house, no one had lived in it except birds and drug addicts for 10 years. It was in horrible shape. With little money, but a lot of sweat equity, I have made it a home. I have made the yard a pleasant retreat, made garden spots, built a garage with a work shop.
We had a horrendous flood in 1993 with water up the bottom of the windows. I was out of the house for 6 months then. Two or three years there has been minor flooding and a little water in the basement, but last summer (as some of you may remember) the flooding occurred from March through October which was a first. This year it has started again.
I cannot do this!
I cannot do this!
Across the street: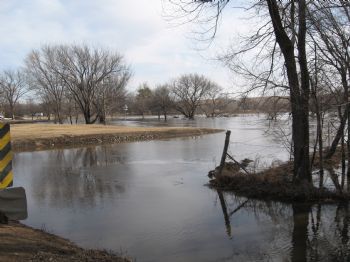 My house!
Stay dry, Sparkies!