I got on the scale this morning and the horrible instrument tried to tell me that I had gained 5 lbs in two days.
Now there are a lot of ways that you can react to such a device and in different times along my healthy journey, I'm sure I've done a lot of them. There's the temptation to:
A) Throw the hated monstrosity out of the window while shouting very bad words,
B) Jump up and down on it saying WTF?!?!?!
C) Throw in the towel for the day and say oh what the hell, I'll just eat what i want it doesn't matter anyway.
D) do some stupid crash diet to try and rectify the situation immediately
I fortunately did not do any of those things. I did email my SP buddy and she wisely said forgetaboutit and stay on track! I'm quit sure she used that mafia voice when she typed that.
I'm quite certain there is no rhyme or reason to weight loss sometimes. So I did what I knew I should do:
A) tracked all my nutrition on the SP Food tracker
B) made sure I drank all my water and hit my fruits/veggies goal
C) ate healthy all day and did not skip meals or cut calories
D) went to the gym for my normal Tuesday class and busted buns in the shift & lift class
E) set up the Easter Challenge for my Twilight Challenge team
F) Read the latest issue of Oxygen Magazine
G) Did some healthy grocery shopping
H) most importantly I did not freak out
Here's some of what I ate today: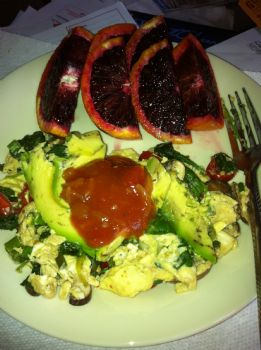 I used a fruit I don't normally buy - blood orange. I sauteed 2 cups baby spinach, 2 scallions, 4 cherry tomatoes, 4 baby portabella mushrooms, and added 1 egg, 1/4 c egg beaters. I topped that with 2 T salsa, and 1/4 avocado.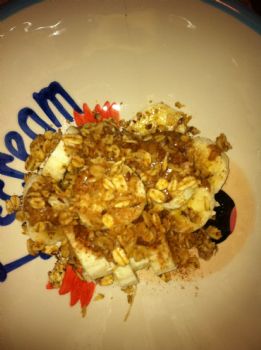 My new favorite snack, 1 small sliced banana, 1 T almond butter, 1 T granola, and a dash of cinnamon.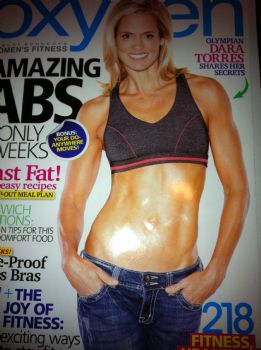 Oxygen had one of my fitness heros on the cover - Dara Torres. Great issue!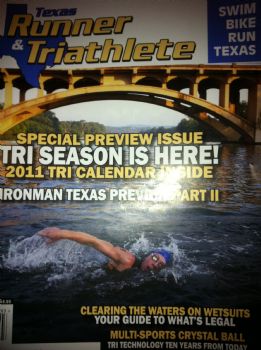 I got this issue of Texas Runner & Triathlete in the mail and I researched some new events. I emailed my running buddy (also on SP) and we're looking into our first attempts at a duathlon and a sprint triathlon later this summer.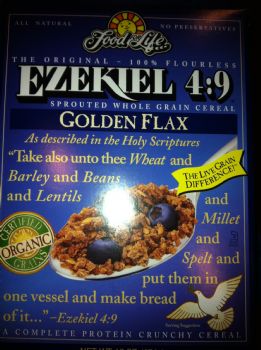 I used the Fooducate app on my Iphone and found a new cereal to try that rated as an A.
It was a very successful day, and the scale monster was defeated.
Maybe I should wear war paint the next time I step on that thing!