Tuesday, March 15, 2011
I realized today that I need to retire these jeans. I have been wearing them with a belt pulled tighter and tighter and now it just looks silly.
I found a photo from August 2010 where I wear the same jeans, so I put on the same top and tried to take a similar photo. Didn't quite get the angle or distance right, but this is the best I can do.
I had a setback in November/December, where I gained a few pounds, but those are now but a memory and I am back where I was in August, weight wise. I am more toned now, though, so I think there is a difference in the photos.
Putting this in a blog so that I have something to look at when I feel like I am making no progress at all, just because the scale is stubborn.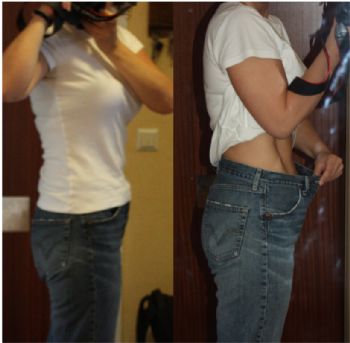 Soon I won't have to feel embarrassed and ashamed, explaining that I am still carrying pregnancy weight - as my little girl approaches her fourth birthday.

Heading out for a run now and am feeling full of energy and hope! I can do this!