Tuesday was my husband's birthday, so we pigged out at Red Lobster. My husband and I decided to have a little birthday party for him at our apartment (that we don't live at, but rent) on Friday, but no one really came other than a couple of friends (literally, only two). So we started packing up at around 9:30pm to go to my friend's house instead. Right before 10:00pm, an officer came to my apartment saying that someone called the police, complaining about the loud music. Seeing there was no stereo or music being played, he was kind of confused and asked if it was us that had the music on. Being honest, we said yes, but that we're actually leaving right now, as evidenced by the bags in our hands. So, he was just like "okay, if you guys do plan on staying but I can see you're not, just try to keep the music low". And that was that.
So, we get to my friend's house by 10:45pm, where we play the music loud (not too bad) all night, play dominoes and play Uno cards. Not a problem. No one complains... Nothing. Pretty uneventful.
Fast forward to 8:00am Saturday. I wake up and want to leave right away to get home to our dog (our real home... not the apartment). We pack some things up and head outside, but are surprised by what we discover...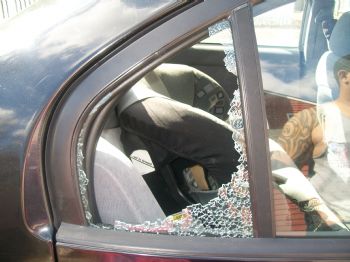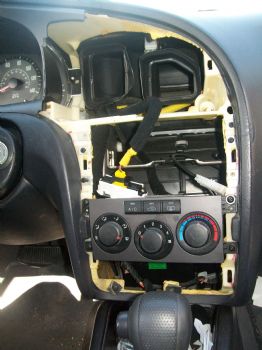 And this is just my car... my husband's was broken into as well. All they took was the stereos, but the damage is just so ridiculous. So, we call the police and the insurance companies and get that all straightened out... as much as possible. It's going to cost me a $100 deductible for my car. Whatever.
Then... I get a call from my neighbor at my apartment. Supposedly, they're getting pegged for the loud music on Friday somehow. Well, that's how they feel right now. I think a lot of it has to do with the fact they had a party (a big one) one week before our party. All we had was loud music, which was off and packed away even before the police came because we decided to leave. Their party last ALL NIGHT long.
Anyways, the owner, who I had notified beforehand about my husband's birthday party, went to my neighbors and said they couldn't have any parties anymore. And one of the other neighbors (who called the cops) are giving them dirty looks. I'm sure if we were there, we would be getting dirty looks as well.
But, you see, this is why I don't live there. They have complained that there was banging on the walls coming from my son's bedroom and that our TV in our bedroom was way too loud. We can't live. My son can't be a six year old (he was five when we left from there). And we can't watch TV at night without getting complaints. I've asked to get out of the lease, but the owner doesn't want to let me out since we're basically a steady paycheck (rent is always on time), and there's another unit still open. It's just not a family friendly place at all. And I can understand that they might be annoyed by the noise sometimes, but I can't be quiet all the time and definitely not my son. It's not possible. And for the majority of the time, we are. But the very few times we've been even remotely loud, it's a problem.
I can't live like that.
So, my lease is up in less than three months anyways. And if he won't let me out of my lease now, I'll just have to live with it until the lease is up and he no longer has a choice in the matter. I plan on sending my 30 day notice on April 25th, certified mail with return receipt. So, the month of May will be extremely busy with apartment hunting!
But with all of this going on, I've been depressed and not very in control of my eating and exercising. I was planning on getting my butt in gear today, but so far it hasn't happened. Ugh. I will do this... just not sure when.
Sorry for the rant... I needed to get it out.