Thursday, February 24, 2011
Today I stumbled across a "stitching for charity" website called Love Quilts. As I often times want to stitch projects but don't really have anyone in mind for them, I thought this would be a perfect way for me to be able to do my cross-stitching and it would go to a worthy cause. Love Quilts is a collective of men and women who cross-stitch designs based on a specific theme or color-scheme. The designs are then turned into a quilt for a child who is battling a life-threatening and/or life-long illness. The concept began in 1999 and Love Quilts has provided over 400 quilts to these special children.

I decided that for my first project I would not choose a specific child but instead, would work on a design that could be used at a later time for an "emergency quilt". This is a quilt that needs to be completed in a very short amount of time rather than the many months that a custom quilt for a specific child takes. My piece is in the theme of "Realistic Birds" for a future little girl's quilt. It is an Asian Mandarin Duck sitting in the water with leaves gently falling around it. The photo of the full pattern is posted but I will be modifying the pattern by only completing a portion of it. There are size constraints with the quilt squares so I will only be stitching one of the ducks in the design. I will also be modifying the colors just a bit as the pattern calls for a speciality thread that can be difficult to wash. This quilt must be able to be machine-washed at home so I will change the thread type/color. For this first project, I will have until June 1, 2011 to complete it and get it to the coordinator.
I am excited that I found this site and their group. I encourage all of you to also join in on this very worthy project even if you do not currently know how to cross-stitch. It's pretty easy to learn, there are many materials/books out there to teach you how to cross-stitch, and there are a lot of more simplistic patterns out there for beginners. For more information on Love Quilts and a list of their guidelines, please check out my personal blog under the "Wonderful Websites" section for a link to their website.
Happy Stitching!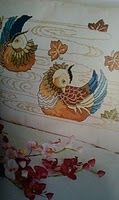 Note: The pattern I am using is from "Oriental Cross Stitch" by Lesley Teare. It is called "Mandarin Ducks".
Keep up with my progress and see additional photos of my journey on my personal blog:
nyssawlj.blogspot.com/
.