No FFF Challenge done...And reward
Tuesday, February 22, 2011
I'm so proud of myself. I made my goal of not eating fast food or fried foods for 4 weeks. 28 whole days. It wasn't so bad until I got to say 28. It was crazy. The last few hours were so hard to push through, but I did it. And thank God I did. I would have kicked myself for quitting only hours short of my goal.
I said that if I made it all the way through the No FFF, I would get my first tattoo. If I could suffer the pain of not eating out. I guess I could suffer the pain of a tattoo. Right? Well....
We got to the shop to inquire on prices and such. OMG it was (almost) the most terrifying thing I have done in my life. I was instantly hot. Hello, someone turn on the fan! I got nauseous - literally. Hands were sweating. OK, probably TMI, but I felt as though I was going to lose my bowels! And the dude was only sketching what I thought I wanted on a piece of paper. I know what you are thinking... If you are that scared why are you there? Well, I was thinking the same thing. It got so bad that my husband had to take me outside for air. PAHAHAHAHA! I hadn't even signed consent forms. GEEZ!
So, after going outside, calling my BFF, and sitting in the car contemplating, I go back in. And then it happened....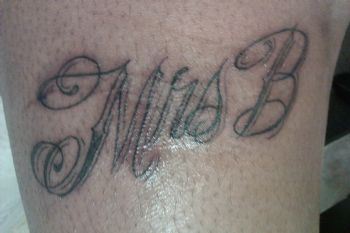 I did it!!! Less than 10 minutes and I was done! I'm proud of myself - for following through. And I do like the tattoo. Now, I believe the hype. This stuff is addictive. Why have I already gotten a quote for a second tattoo???