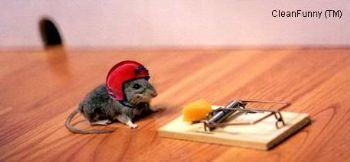 "Life shrinks or expands in proportion to one's courage." ANAIS NIN
...Courage is nothing more than fear having said its prayers.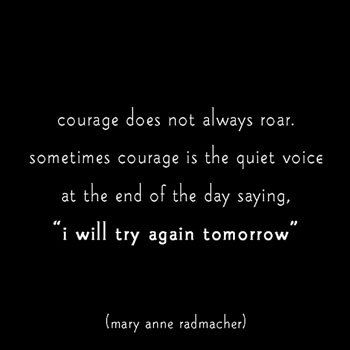 MOVIE: Courage Doesn't Always Roar
by Bobbi Seredich, inspired by Mary Anne Radmacher
www.simpletruths.com/mov
ie_landings/landings.php?b
anner=cdar&us=2694&ca=662&
au=489&intl=707
Simple Truths
www.simpletruths.com/mov
ies.asp
(Poem by Paula Fox)
"When life gets you down and the problems you face
are certainly more than your share...
When you run out of strength and you want to give up
because it's just too much to bear...
I want to remind you, my precious friend,
that you have what it takes inside...
extraordinary courage that may not ROAR
but it doesn't cower and hide
It's the quiet voice inside you that says,
"Tomorrow I'll try again."
It's the courage to keep on going...
to see things through to the end
You are not defined by this moment in time.
You are not what has happened to you
It's the way you choose to respond that matters
and what you decide to do
Courage is not the absence of fear,
but a powerful choice we make...
the choice to move forward with PURPOSE
...regardless of what it takes
It's the courage that's found in ordinary women
who are HEROES in their own way,
exhibiting strength and fortitude
in life's challenges every day...
Valiant woman of exceptional courage
with enduring power to cope...
taking each problem one day at a time
and never giving up HOPE.
We're encouraged by the faith of others
to survive and overcome,
with the courage to say, "I may be down...
but the battle is not done!"
For the WOMAN of COURAGE is a winner...
regardless of what she loses
She displays amazing beauty and strength
with the attitude she chooses
She gives herself the permission she needs...
to feel disappointed or sad.
But then she empowers herself with faith...
to focus on good things...not bad
Her story is one of gentle strength
reminding us all once more...
Steel is sometimes covered in velvet, and...
COURAGE doesn't always roar."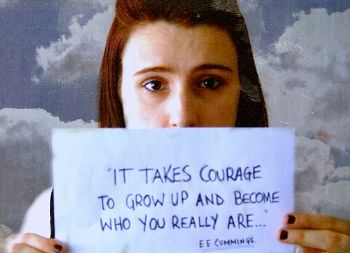 From my affirmation book, 'time for joy' by RUTH FISHEL
www.hcibooks.com/showpro
duct.aspx?ProductID=3012&S
EName=time-for-joy
"Stop and think about this for a moment and you will never be the same again.
All feelings begin in the mind. They begin with a single thought.
Think a happy thought and you will feel happy.
Think about sadness and you will feel sad.
Think about a worrisome fearful thought and you will feel fear. Fear does not lie outside you. It lies within you. No one can produce fear in you but you. Only your mind can produce fear in your body. Your own fear comes from your own interpretation of a condition in your life.
You have power over all your fear."
*
*
*
"Today I will look at all my fears in a new light. I can now see them as a result of my thinking, and will turn over all my fearful thoughts to my Higher Power. Fear no longer owns me or is a threat to my day." RUTH FISHEL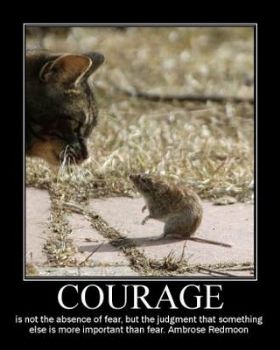 "Courage is not the absence of fear, but the judgement that something else is more important than fear." AMBROSE REDMOON
"There are no rules for the atrocities that play out in our minds.... You have to find that one grain of courage that has been hiding deep within yourself and take the first step out in faith into your new life, to take charge of your life and your health for once and for all. You have to commit to yourself to take simple (notice I didn't say easy), daily action towards your goal." LADYROSE
www.sparkpeople.com/mypa
ge.asp?id=LADYROSE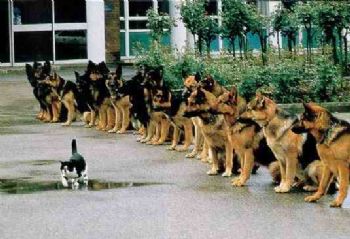 ...Because YOU are braver than you believe, stronger than you seem, smarter than you think, and you deserve enduring good health, fitness at every age, and JOY in the life God gives YOU!
JUST DO IT.
UNTIL.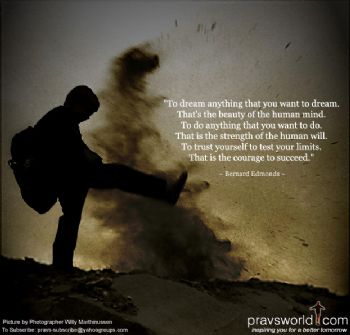 "To dream anything that you want to dream, that's the beauty of the mind. To do anything you want to do, that's the strength of the human will. To trust yourself to test your limits, that's the courage to succeed." BERNARD EDMONDS
"You gain strength, courage and confidence by every experience in which you really stop to look fear in the face... You must do the thing you think you cannot do." ELEANOR ROOSEVELT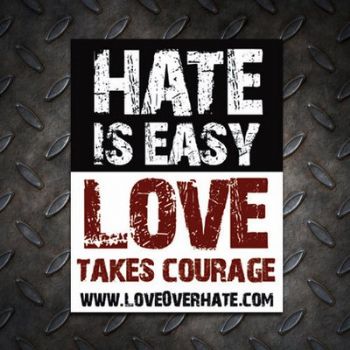 How about self-love... would you say to anyone else half of what you say to yourself?
"COURAGE: Do one brave thing today... then run like h3ll!" ...or perhaps stick around and see what happens... you might be surprised. Oh... and there IS a difference between 'brave' and 'stupid', LOL!
Before 'Progress' Pictures - January, 2011
www.sparkpeople.com/mypa
ge_public_journal_individu
al.asp?blog_id=2108514
(I'm now keeping these right under my nose... in addition to being part of every blog I post, they are printed off and taped to my bedroom mirror.)
I've Reached My Goal Weight!!!!!!!
www.sparkpeople.com/mypa
ge_public_journal_individu
al.asp?blog_id=2108522
NOTE: My weight tracker is NOT a truthful representation of my weight. Instead, I am using it as a tool to help me visualize my goal as though it's already been achieved!
(Tom Venuto)
UNTIL. (My 'Just Do It' blog)
www.sparkpeople.com/mypa
ge_public_journal_individu
al.asp?blog_id=3541059
YOU are a CAR!
www.sparkpeople.com/mypa
ge_public_journal_individu
al.asp?blog_id=2232914
DONE Girl Love...
www.sparkpeople.com/mypa
ge_public_journal_individu
al.asp?blog_id=3694266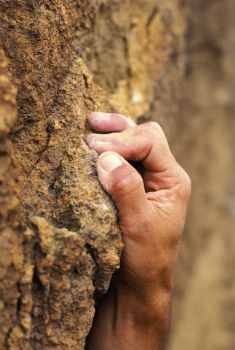 ...and MAY GOD ABUNDANTLY BLESS YOU, and those you love, in every way that you require.
May today be all you need it to be. May the peace of God and the freshness of the Holy Spirit rest in your thoughts, rule in your dreams tonight, and conquer all your fears. May God manifest himself today in ways you have never experienced. May your joys be fulfilled, your dreams be closer, and your prayers be answered. May faith enter a new height for you; may your territory is enlarged. I pray for your peace, healing, health, happiness, prosperity, joy.
{{{{{{{{{ HUGS }}}}}}}}}
Ramona