So I have been comtemplating about going to get fitted for running shoes with my tax money. It's been on my mind for ages now. But, I finally decided against it. Now before you go postal, thinking I am crazy, I have good reasons.
I am just starting to run, and not sure if it will be for me, or heck something I even enjoy. So, i didn't want to buy a pair for $130 shoes for no reason. Also, I don't plan on starting out by running long distances, 3 miles at most. If it continues to be something I love, then yes I will get better ones!!
Here is a pic of them!!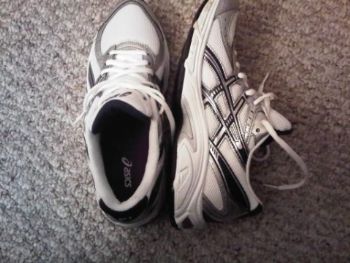 They are Asics. Purple, even though they look blue. And on sale. ($39.99)
I tried on 11 different pairs and these are the ones I like the most, cannot wait to try them on!
I decided against running outside last night, which now seems silly. I should just have ran around my block. It's .71 miles all around. And two sides are on busy streets. So I am going to do this tonight, as long as the sidewalks aren't slippery. Two laps, with as much running as I can. And besides, I took self defense. And I can scream. I will be fine!
So why is is that I can do a Wii Fit Free Run for 20 minutes straight, yet can't run normally for that long? I know, i know, they are a different kind of run, but honestly I should be able to do this. I really need to get outside of my head and just let my body to move. I think this will be the biggest struggle for me!
All I can say, I am pumped to enjoy this weather!
-- Elyse