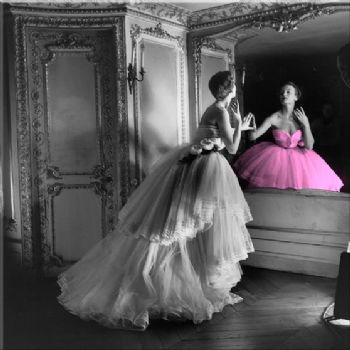 I CAN SEE, I CAN SEE !!! My big green eyes have been opened in new ways and are seeing discoveries that they never have been before. Some of the things they see are quite pleasant and others well - - not so pleasant.
My eyes were opened by one very special LOOKING GLASS that I love. I never imagined that I would enjoy having a giant mirror to view myself when I exercise. It opens my eyes and shows me so many things.
The mirror is very SPECIAL. IT has character and age and stands tall, yet it is wide like a lady, so if it were a person it would be a she. It has a story to tell me. It's my magical, mystical, golden wooden framed, Wonderful Ancient yet wise LOOKING GLASS that I can seek wisdom from. It has a special place in the room watching over me, reflecting back all I do, so I can be the best that I can be while I exercise. It is amazing what a difference it has already made in my workouts.
She now sits in lazily, propped at an angle, against a wall in the exercise room. She looks on grandly in a lady like manner seeking to show me how I can improve as I exercise. She has opened my eyes in so many ways. Now as I move my body during exercise I can see that I need to work more on improving my form. I though I was going deeper than I am when I do single leg squats. Instead I only go down 1/4 of the way instead of 1/2 the way the ladies demonstrate on the DVD. My dvds will have a longer life since I have so much more work to do improving my form. Thank goodness to the looking glass !!! She never frown or disapproves when I get into weird positions to exercise like when you do the fire hydrant on all fours.
The mirror also shows me how WIDE my Waist and BUTT is. (Now why did she have to go and show me that? Or that little patch of cellulite?) Even though the measuring tape has shown a 6" decrease in my backside and I am very excited and pleased with the decline in the numbers, there is so much more work to be done. The mirror is very honest and does not hide anything from me. No longer is my lower half of my body hidden from my site. She was not very kind to me in showing me how I looked.
Today's workout was P-57 Thigh and Seat Booster. YEA !!! It was quite the challenge for me.
Followed by Tracy Anderson's Ominicentric muscle structure week 1. Her workout was mostly mat work that I found to be very different. It challenged different parts of my legs, butt, and saddlebag areas. It had a nice ab section that I felt, and my arms were burning with the arm work. My arms were so tired doing the arm work I pulled out my teeny, tiny purple one pound weights as I didn't feel up to using anything heavier.