I just felt like writing out a blog to get my thoughts in order about my current situation. It really isn't supposed to be interesting or thought-provoking or anything like that, so prepare to be disappointed if thats what you came here to read about.
Lately, I have had a bare minimum of will-power. Enough to get me to workout, but not enough to keep me from eating sweet treats in the break room. I have a friend that is always saying that I have so much will-power, but I really don't feel that way. If I had will-power I could keep sweets from my gullet, but I just can't. I see something sweet and my mind tells me I have to have it and convinces me that a little bit won't hurt, then the train hits and I find myself eating a large slice of whatever sweet, decadent, amazing goodness is there. Its interesting because the entire time I am convincing myself out of it I am also convincing myself into it. It definately feels like the devil and angel on my shoulder scenario. I have made some positive advances though, and am ridding myself of most refined sweets in my house. I still have some nutella sitting in my cabinet that calls my name constantly, and I know I should follow my own good advice and just throw it out, but my mind convinces me "But Leah, if you ate it in moderation it isn't a terrible food." In fact, maybe this blog is a bit profound because just now, I am walking to my cabinet and throwing it out. DONE! I have better things I can put on my nutrigrain eggo in the morning, like peanut butter, which I love. In fact, I don't even end up putting the nutella on my eggo, I just eat it by the spoonful.
So, as of right now I don't have any nutella that I eat by the spoonful in addition to the already removed 100 calorie snack packs that I can't stop at one pack of, ice cream sandwiches that I can't eat just one of, etc. If I can't have the willpower to stay away from the pantry, I KNOW I can at least maintain my willpower to not buy the products.
(Some lady holding 5KG of Nutella...yes people, the size of a large baby.)
I didn't want to work out today at'all. I couldn't sleep yesterday (2/12) before work and then I worked all night into today (2/13) and wasn't feeling the exercise thing at all. Normally, I will head out to Zumba at the East Alaska Club at 1PM but I am sort of annoyed with that instructor not providing an appropriate cardio/dance step ratio, so I was going to go to Alaska Club West's class at 6PM which is significantly later than I could probably handle staying up so I took a short nap, woke up still uninterested in exercise, but I got up, got on the uniform, and rolled out. Got to the club and was told that they changed the time of Zumba at that location and that I was about 1 1/2 hrs late for the new time. Great. So now I had to find something else to do. I went home, still uninterested in exercise, trying to convince myself I don't need to do it today, but ended up sticking in Just Dance for Wii and doing some cardio for an hour+ (no, I don't count the time between songs, and I don't always follow the person on the screen, I do bigger or faster movements to improve the cardio, after all...the points don't count, I am more interested in the exercise). I was proud of myself.
Now, maintaining self control tomorrow will be difficult. I am going out to eat twice (which will likely be my only two meals of the day because I don't know the calories but am positive it will be quite a few), one meal will be a crepe (and I will ask for fresh fruit in the crepe, but am not positive thats an option) and the second will be a seafood pasta dish with a garlic cream sauce. Yum! But also, fear. I thought I would be ready for this day when it was planned out at the beginning of the month because at the time I had lost almost 2 pounds and figure I would keep losing but lately I have been holding on to those two pounds I had lost at the beginning of the month and somehow gained back. Why? I don't know but I am sure those aforementioned sweets had something to do with it, despite almost always being in or near my calorie range for the day. Sweets just do terrible things to me. They are criminal, and I aid and abet them. So, needless to say, I am feeling a little bit guilty about eating out tomorrow when those 2lbs are staring me in the face, taunting me. But, I also know I wouldn't eat like that on anything but a holiday.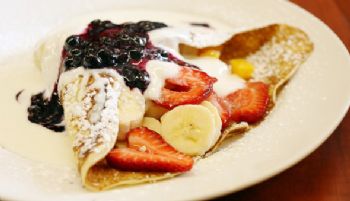 Tomorrow is also a sort of busy day, so I don't know when I will fit in exercise, but I know I MUST do it, and it WILL be done.