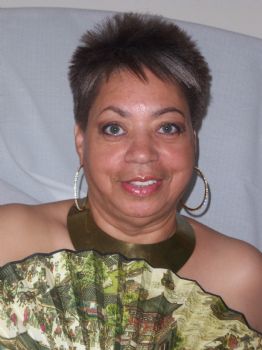 Okay, okay, so you're probably thinking what I said is kind of harsh huh? Let me give you a little background 4-1-1 on my wonderful parental unit.
As a human, my mom is THE most caring, giving and generous woman I've ever known. She has literally given people the clothes off her back. And her looks? Gorgeous! She's got these big, expressive blue/green eyes. Her perfectly shaped lips are a thing of envy. And her shape? Looking back at old photographs, I KNEW my mom was the cat's meow! Like I said, a complete stunner! Or as most folks would say today, "Hot."
Fast forward a few years and my mom is now 65 and NOT exactly the epitome of health. She's diabetic, has high blood pressure (hypertension), a thyroid problem, and almost everything ending in "itis" arthritis and tendonitis to name a few. She's over-weight, has bad knees and absolutely refuses to believe she can change because she doesn't THINK she has any problems. The fact that she has to prick her fingers every morning isn't an indication that something is wrong. The fact that she has to take 9 different medications everyday hasn't clued her in yet. When will she learn? If ever.
Trust me, longevity does NOT run in my family! We usually drop before the age of 50 of heart related diseases, obesity or diabetes! My dad although very thin, died at age 40. My great-grandmother. 40. My grandmother. God bless her, died at age 75, which is STILL not that old. My uncle, 45. I've had 2 aunts that have had a heart attacks and strokes and this STILL is not a wake-up call to my mother. All but one of my aunties is overweight.
She scoffs when I try to show her someone else's weight-loss success story. The mere mention of the word "calorie" makes her blood boil! Why is she so damn stubborn and set in her ways? She's the ultimate saboteur. She loves to bring over pies and cakes and will buy at least 3 cakes or pies a week, which she can finish by herself in 2 days. Yet, she thinks this is normal. Water? What's that? She's good to get in a single serving in a weeks time. She loves her juice and soda. She thinks because it's not Coke or Pepsi, she's good. Vegetables? Yeah right. Let me not even get started with fruit. (Oh, now she will bake an apple pie and eat that with a heaping bowl of ice-cream.)
I want so badly for her to make SOME little changes. Just drink a bottle of water. Eat ONE fruit or veggie a day. Maybe walk for 10 minutes. Nope. She doesn't have any health problems according to her, although the pharmacy she carries in her purse disputes that myth.
Before you say it, I've prepared dinner for her. Grilled chops, chicken or fish. (She doesn't do grilled or vegetables.) She likes anything fried in oil, battered and greasy topped with an extra heaping of, you guessed it - salt.
Should I just give up and watch her slowly kill herself? Or should I fight for her health even if she doesn't want to? I CAN'T want better health for her if she doesn't want it for herself. Yet, I don't want to lose another parent because of being too old and stubborn to change. What would you do?