First here are the numbers
13.1 miles
2:45:40 time
4530 calories burned race day
43, 715 steps for the day
My cousin and a close friend accompanied me to Miami for our first half marathon. We had a slight flight delay on Friday bur were walking around South Beach a little after 9 PM taking in the sights and looking for food.
We spent most of Saturday walking around and then walked 9 blocks to the convention center to pick up our race packets. We went around 3 to meet up with the Sparkteam but I did not find a soul and went back into the Expo. We walked around for a while and bought some Gu, socks, and other little items. This was supposed to be our rest day but we ended up walking around and shopping and I logged over 20,000 steps that day.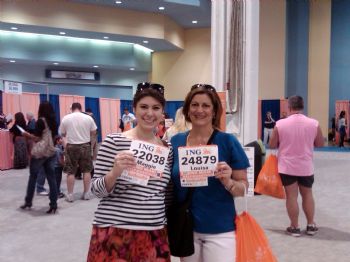 We went to bed at 10 and set the alarm for 4 AM. We had to walk 9 blocks to catch the shuttle to the race. Once on the bus, we hit bad traffic- at 5 AM!!!- on the bridge into town and were getting anxious about the time. There was a bad accident that blocked a couple of lanes. The shuttle driver ended up letting us all off at the end of the bridge and told us we would be better off walking to the start line. The sky was dark, with a sliver of a moon and a bright star above us, and hundreds of runners around us converging on the staging area. The finish line and the bag check were 3 blocks from the start line. The blocks were long blocks and we started running to get there and to check our jackets. We were definitely warmed up by then.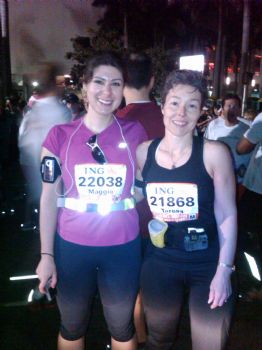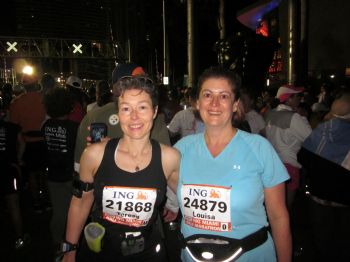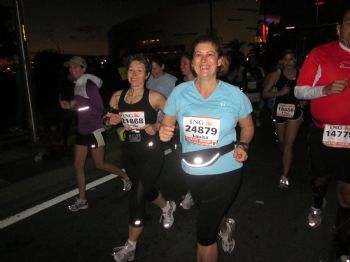 We queued up at the start line and a few minutes later the race started. It only took us 10 minutes to pass the start line. We waved my cousin off since she is much younger and faster, and Teresa and I settled into our usual running routine, chatting and taking in the sights.
We made a turn an up the first bridge which was the one big incline of the race and very manageable. We passed cruise ships to our right and the sky started turning a pinkish purple as the sun was coming up.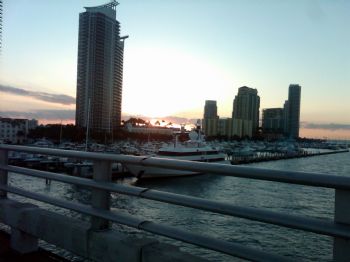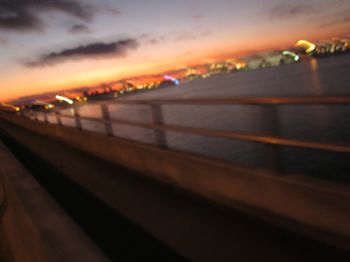 What a magnificent course to run. We passed islands with mansions and palm trees and then were just surrounded by water and the ships. We did great heading into South Beach and the water/Gatorade stops were plentiful along the way. We even took a few pictures- who could resist. The scenery on the way back was much more residential with shorter older bridges and quiet neighborhood streets.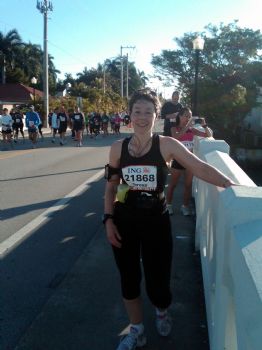 Teresa was coming off a knee injury so we made sure to keep a slow pace and stopped to stretch a couple of times. The race was really uneventful, beautiful and scenic until about mile 10 when I felt myself struggle. Ironically, Teresa was getting more and more pumped up and started to punch the air and respond to the crowds cheering us on. It made me laugh and after � mile and more Gatorade I felt better. The last 2 miles were exhilarating. There were more crowds, I could feel the end was within reach and we were definitely not last- lol.
Teresa and I stayed together the entire race and crossed the finish line together. It was definitely getting warm and I felt bad for all those runners who made a right turn a � mile before our finish line to continue for another 13.1 miles.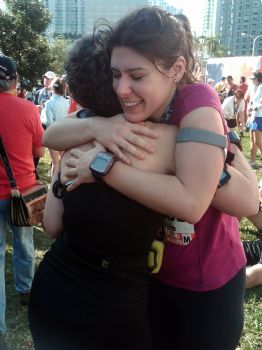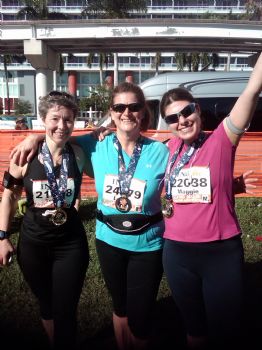 We met up with my cousin and stretched for a long time. There were tables and tables of bananas, bagels and cream cheese, fruit cups, protein shakes and cookies. This was the best fed racing crowd.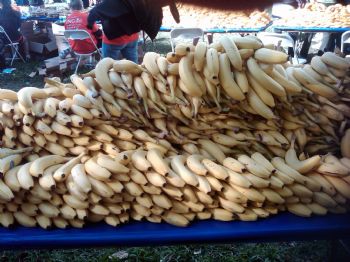 We took the shuttle back to Miami Beach and walked the 9 blocks back to our hotel wearing our medals and huge smiles.
The hotel crew brought us buckets of ice and we iced for quite some time before showering and heading to the beach.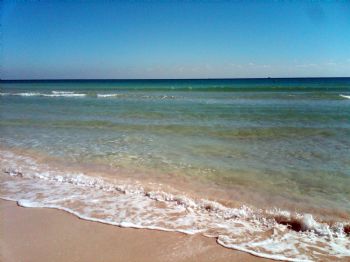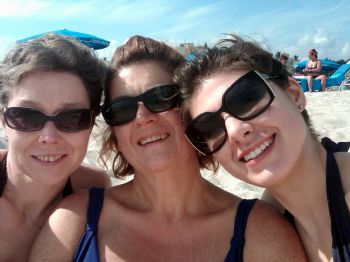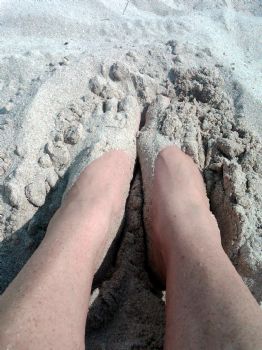 I am thankful that we had brought a foam roller and tiger tail on this trip and trust me, we used them both several times a day.
It was an amazing weekend, a fabulous race and a fun time. And we had a fabulous celebratory dinner.