No power since last night, no heat or hot food, no sleep... yet got up to take these pictures in the cold and dark! The Show Must Go on!
Less than 3 weeks until my birthday.. I wrote from the start that I want to hit 118 by then, so I will try my best! Even if I don't hit it on the mark, I would have come far, and this is not a race for me. Thanks so much for everyone's support, I appreciate each comment :0)
I'm Tess, a 39 yo mother of 2. ST goal- 127ish to 118 pounds in 10 weeks, by 40th birthday on 2/15/11 (Week 8-hit 120, a little up), and to 115 (my "high weight" goal) by May 31, 2011 (Summer). LT goals- BF 16 percent, 113-115 pounds, a lean/tone "look". Planning on doing weekly pictures for 1 year, to have a photolog of changes. Let's see what can be done in a year!
______________________________
______________________
PICTURES (changed to 2 sets): all relaxed (no flexing)
First set: "BEFORE" vs. "NOW". 2nd set: All progress pictures (front/back/side only)
FIRST SET: "BEFORE" vs. "NOW"
Front (looking at abs, space between upper thighs)
Back (tucking bottoms to see subtle changes. Trying to keep same hip flexion. Looking at glutes, space between thighs, back.)


Side (looking at arm size, glutes, thigh size)


Side Left Leg out (Looking at arm/hamstring definition)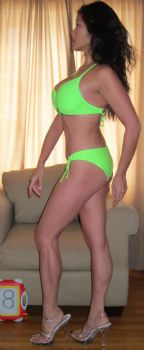 Side right leg out (Looking at arm/hamstring definition)


SECOND SET: ALL PROGRESS PICS (Front/Back/Side only)
Front, all weeks






Back, all weeks









Side, all weeks









MEASUREMENTS (trying to keep same tension in tape measure):
Height: 5'4''
Weight (pounds): (start: 126.4), W1 (pre TOM)-123.6, W2 (TOM)-122.4, W3 Xmas-121, W4 New Year-119.4, W5 (pre TOM)-120.4, W6 (TOM)-119.6, W7-(hit 119.2) , W8-120
Hips (start: 37.5''), W1-36.5, W2-36.5, W3-36, W4-35.75, W5 (pre TOM)-35.75, W6-35.75, W7-35.5 , W8-35.5
Waist (start: 27.5''), W1-27.25, W2- 27, W3-26.75, W4-26.5, W5-26.75, W6-26.75, W7-26.5 , W8- 26.5
Bust: (start: 37.5''), W1-37.5, W2-37.25, W3-37.25, W4-37. W5-37, W6-37, W7-37 , W8- 37.5
Thigh (largest part)- (start: 20''), W1- 20, W2-20, W3-20, W4-19.75. W5-19.75, W6-19.75, W7-19.5 , W8- 19.5
Body fat: (measured October 2010, at 126 pounds: 18 percent)
GOALS:
Short term goals (measurable): Drop 9 pounds in 10 weeks, by 2/15/11 (118), and 12 pounds in 6 months (115) by May 31, 2011
Long term goals: Maintain under 16 percent body fat for life, Stay in great shape for life (cardiovascular, flexibility, and strength), black belt within 3 years. Tae Kwon Do competition team.
Visible goals: Get rid of love handles, backfat, lose an inch or two off the waist, perk up my glutes, slim out face, visible muscle definition.
____________________________
_____________________
REFLECTIONS/ASSESSMENTS OF THIS WEEK:
Pictures: Can't really tell because of the weird lighting (or lack of)... but no change in measurements this week.
Goal achievement (weight/measurements, visible): Caught a glimse of myself in a mirror in the mall, I was surprised at how "slim" I looked... had on a pair of velvet jeggings and an off the shoulder sweater. LOL, little surprises are great.
Diet this week: I am really trying this week to allow myself the treats without binging/going overboard. So.....R- so tired from the yoyo eating of the week prior, ate a huge lunch and that was it (cals 2000) for the day. Good Fri. Sat- had a huge lunch after TKD/CAGE because felt so depleted (but it was healthy stuff). Lots of salt. Treat meal that evening included a piece of chocolate cake. Cals that day over 2000. Sun was good (by "good", I mean meeting my goals of cals/salt/protein. But I am also working on allowing myself 1-2 treat meals per week (Thursday and either Sat or Sun), trying for cals around 2000. Because I've earned it, and because this is not a race for me). Mon- within cal range, but heavy salt again (since Sat- Mom's chicken salad with FF mayo, low fat but tons of salt), some wasabi peas, saltines... I'm so salt sensitive, was 2 lbs up the next day. Tues- better, noticing that when I get hungry, I am revenous. Must start carrying healthy snacks everwhere, at all times (even in my purse, even the cooler isn't cutting it, if it's in the trunk while I'm driving and get hit with hunger pangs. Wed- okay... really gonna cut myself a break. Snowmageddon here, did you see it on the news? Cars stranded everywhere, really scary. Anyway... lost power, no heat, and am spending the day/night in hubby's office with my kids. Still managed to get up in the cold to take pics! So be kind, this was kind of hard to do.
Exercise this week: R-off, F- weights, Sa/Su- CAGE/TKD, M-off, T-weights, W-weights (new routine started for the next 4-6 weeks)
PLANS FOR UPCOMING WEEK(S):
Diet: Again, my challenge to myself for next week AGAIN, and probably for years to come, is to allow these treats (in moderation), and know that it is okay. ALSO to really watch the salt, I'm SO sensitive to it. I was very depleted and weak this week, so didn't push myself diet wise too much... again, a slow process, it will pick up again when I am ready to push.
Exercise- Changed up my weights routine, pushing the weights little heavier...
Attitude: Allow myself a break if I get run down, but pick back up when I am ready!
IN A NUTSHELL:
Snowmageddon, too much salt, depleted and weak... will really monitor myself, this week will hopefully find me stronger and ready to push the envelope a bit! 3 more weeks... gonna try to get close to 118, and 115 by Summer.